Webinar Launch: Debt Relief for Green and Inclusive Recovery Report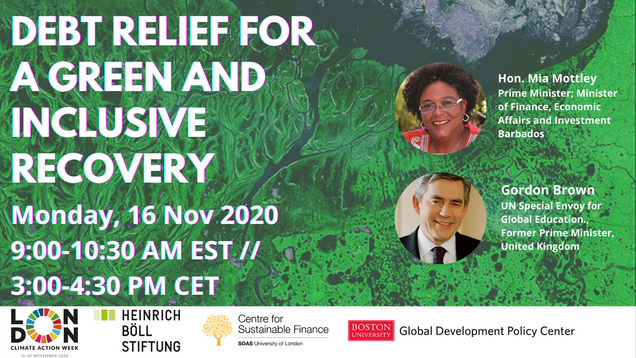 Greening the Recovery in Time of Debt Distress
A global debt crisis is looming. Even before COVID-19 swept the world, the International Monetary Fund deemed global public debt burden a high risk for the majority of developing countries – noting that half of the lower-income countries were 'at high risk of or already in debt distress.' As the COVID-19 crisis worsens, developing countries face steep output contractions, massive increases in unemployment and poverty as well as limited fiscal space, while the COVID-19 relief and recovery effort demands a massive upscaling of expenditures.
This new, systemic debt crisis emerges at a critical time when the global climate crisis demands the urgent mobilization of huge investment in mitigation and adaptation. Moreover, partly driven by policy, partly by technological disruption, fossil fuels are transitioning from being an asset to a liability, amounting to a third systemic crisis sweeping capital markets and the developing world. It is at the intersection of these three systemic crises that new and innovative answers need to be urgently found, breaking through silos of international policy making.
The Debt Relief for Green and Inclusive Recovery (DRGR) initiative is an ambitious proposal for concerted and comprehensive debt relief on a global scale to free up resources in heavily indebted developing countries to support sustainable recoveries, boost economic resilience, and foster a just transition to a low-carbon economy.
Produced in partnership with the Centre for Sustainable Finance at SOAS, University of London and the Heinrich Böll Stiftung.
Keynote Addresses:
Hon. Mia Amor Mottley, Prime Minister & Minister of Finance, Economic Affairs and Investment, Barbados
Gordon Brown, United Nations Special Envoy for Global Education and Former Prime Minister of the United Kingdom
Presenting:
Kevin P. Gallagher, Professor of Global Development Policy at the Frederick S. Pardee School of Global Studies; Director of the Global Development Policy Center, Boston University
Stephany Griffith Jones, Financial Markets Program Director at the Initiative for Policy Dialogue, Columbia University
Ulrich Volz, Director of the Centre for Sustainable Finance at SOAS, University of London
Shamshad Akhtar, Chair of the Board of Directors, Karandaaz Pakistan, Former Governor of the State Bank of Pakistan and Finance Minister of Pakistan
Moritz Kraemer, Chief Economic Adviser of Acreditus and former Global Chief Ratings Officer, S&P Sovereign Ratings
Closing Statement:
Barbara Unmüßig, President, Heinrich Böll Stiftung
STARTS:
9:00 AM EST on Monday, Nov. 16, 2020
ENDS:
10:30 AM EST on Monday, Nov. 16, 2020
REGISTRATION: