From Bogotá to Banjul: Discussing COVID-19 in Latin America and Africa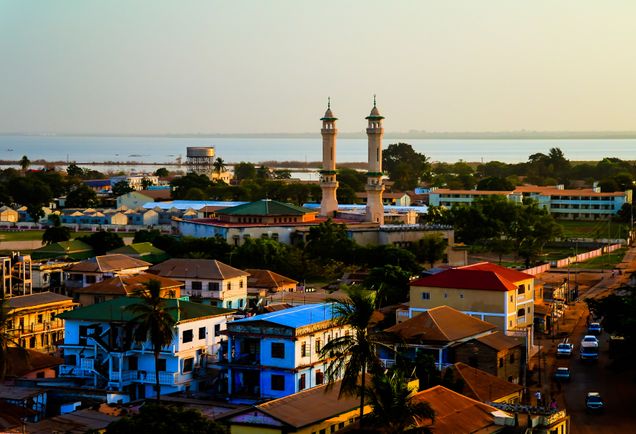 As the COVID-19 pandemic continues apace in Latin America and Africa, an expert panel of BU alumni was convened by the Global Development Policy Center to discuss the effects of the virus in these regions and what measures the regional development banks have taken to mitigate the crisis and work toward a recovery.
GDP Center Director Kevin P. Gallagher was joined by Lamin G. Barrow, Director of the Joint Secretariat Support Office for the African Union Commission, United Nations Economic Commission for Africa and the African Development Bank, and Ana Maria Carrasquilla-Barrera, the CEO of the Asset Management Corporation at the Latin American Development Bank (CAF-AM).
Both Barrow and Carrasquilla-Barrera gave presentations discussing the current state of the COVID-19 pandemic in their respective regions, which was followed by a Q&A session moderated by Gallagher.
Carrasquilla-Barrera began by describing the economic landscape in Latin America, noting that, "When the COVID-19 crisis hit, Latin America was just coming out of a recession caused by the commodity shock of 2014-2015." This hampered the ability of governments to properly mobilize resources to respond to the public health crisis, but directors at Carrasquilla-Barrera's CAF-AM "acted quickly to approve credit lines for billions of dollars." With the help of measures like those taken by CAF-AM, "Latin America was able to secure ample financing to combat the COVID-19 crisis, and countries have implemented a mix of fiscal, monetary and social measures." 
Presently, Carraquilla-Barrera commented that there are signs the Latin American economy may recover sooner than initially thought, but the region "needs to implement very focused public spending on sustainable green infrastructure and job creation." Indeed, she noted that increasing public spending now could lead to economic gains later, as "a one percent GDP increase in public spending previously increased GDP in two years by 2.7 percent."
For Africa, Barrow began by giving an overview of the pandemic on the continent, noting that African nations had several key early successes, including moving into lockdown and raising public awareness early in the pandemic. Similar to Latin America, the African economy has been hindered in responding to the crisis, as the pre-existing "strain on public finances and international reserves provided limited buffers to mitigate exogenous shocks from the pandemic." Additionally, he commented that Africa's "huge informal sector and infrastructure deficits led to weak pandemic preparedness."
The economic effects of COVID-19 for Africa have been devastating – as Barrow reported "cumulative GDP loss for Africa is between $173 billion and $236 billion in 2020-2021″ and "28 million to 49 million people in Africa could be pushed into extreme poverty, with 30 million experiencing job loss." He also noted that average external debt in Africa is likely to reach 42.9 percent in 2020, up from 40.7 percent in 2019. 
Barrow described the work the African Development Bank has taken to support recovery efforts, which includes ensuring business continuity, supporting the COVID-19 Crisis Response Facility and other complementary actions. He further commented that it will be critical to "emphasize inclusiveness and resilience in the recovery" and that "we need to maximize efforts to mobilize domestic resources." Barrow also echoed Carrasquilla-Barrera's support for a green recovery, explaining that "economic recovery is the main priority and we need to seize opportunities to jump start a green recovery."
Barrow and Carrasquilla-Barrera both closed the event by offering advice to Boston University students on how best to pursue a career in development finance. Carrasquilla-Barrera advised students to "Follow your passions. If you come from a developing country like I do and you want to see progress and growth, a job like mine is very inspiring because you get to help people, countries and sectors." Barrow agreed, adding, "Passion is key. You have to develop a plan and have a vision of how to achieve your goals. Be ready to explore, take some risks and pursue your dreams."
This event was produced as part of the GDP Center's Open House, welcoming students, faculty and staff at Boston University and beyond to learn more about the GDP Center and the pressing development questions of the COVID-19 era.
Download Lamin G. Barrow's Presentation
Download Ana Maria Carrasquilla-Barrera's Presentation