Chinese Development Finance for Solar and Wind Power Abroad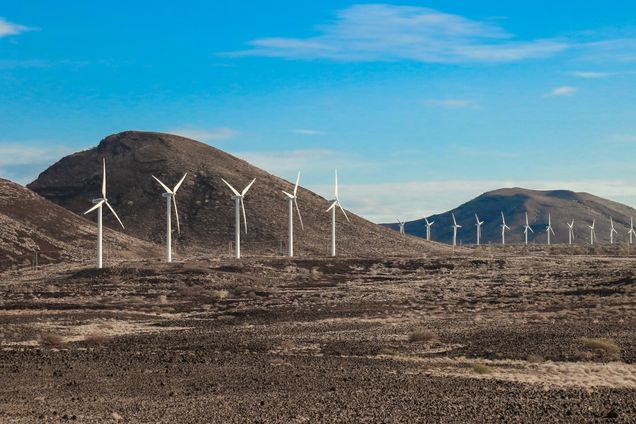 The past two decades have witnessed China's rise as the world's leading provider of official development finance (ODF) for energy. However, the overwhelming majority of the Chinese ODF has flown to fossil fuels projects, with solar and wind power representing 2.6 percent the total for electric power worldwide and 1.1 percent of the total for all forms of energy combined.
This is puzzling, as China has maintained global leadership in solar and wind energy investment, manufacturing and deployment since 2008 and its two policy banks have been tasked to promote the global expansion of the Chinese renewable industry under its international development strategy. The resultant investment potential for solar and wind power worldwide is gargantuan.
In a new working paper, Kevin P. Gallagher and Bo Kong examine both the push factors inside China and the pull factors in the countries that have received Chinese ODF for their solar and wind power projects to understand why China has mobilized such a small fraction of its ODF for solar and wind power worldwide. The direct push from the central government in China for its two policy banks, the China Development Bank (CDB) and the China Export and Import Bank (CHEXIM), to finance solar and wind power overseas has had a limited impact. On the contrary, the two policy banks have responded to the pull factors in the recipient countries of Chinese ODF and financed solar and wind power projects to promote the global expansion of Chinese renewable firms and the export of Chinese renewable energy equipment and product, which is also consistent with what CDB and CHEXIM are mandated to do.
In this sense, Chinese ODF for solar and wind power worldwide is a by-product of an indirect push from the Chinese government and pull from overseas. The minuscule proportionality of solar and wind power out of the aggregate Chinese ODF for energy worldwide has to do with the following three factors—the policy banks' reservations about solar and wind projects overseas, the setback CDB encountered in Europe and the required government-to-government involvement that makes it difficult for solar and wind power projects overseas to secure Chinese ODF.
Main findings:
There are two distinct categories of recipient countries. Category I includes Bulgaria, Italy and Romania, while Category II consists of Ethiopia, Kenya, Argentina and Pakistan.

Category I countries have witnessed one tale of CDB being pulled into these markets by three leading Chinese solar firms, i.e., Suntech Power, Haeron Solar and Chaori Solar, which had already established deep connections with the policy bank at home prior to their overseas expansion.
On the other hand, the story of Category II countries is one of organized rationality and ends with unambiguous wins for the two policy banks.
Additionally, the type of Chinese ODF for solar and wind projects in Category II countries is unlikely to scale up at a rapid pace, thus further limiting the magnitude of Chinese ODF for solar and wind energy worldwide.

Export promotion seems to have become the primary focus for CDB and CHEXIM when evaluating whether to finance solar and wind power projects overseas.

However, as revealed by the in-country investigation, this is primarily done under a government-to-government framework, thus subjecting decision-making on Chinese ODF to a wide range of considerations specific to the policy banks, the Chinese government and foreign governments.
These two tales correspond to the data reported in this study, pointing to the underwhelming provision of Chinese ODF for solar and wind power in comparison with that for fossil fuels projects around the world. For countries that want to turn to China for help with their solar and/or wind power expansion, they will have a better shot if their governments play a more proactive role in engaging CDB and CHEXIM and work out an arrangement in their favor. However, if this study provides any indication of what is to come, it is clear that one should not take it for granted that China will fill the near $800 billion in renewable energy investment potential waiting to be tapped worldwide.
This study was published as a journal article in Energy Research and Social Science in November 2020.
Read the Working Paper