Sustainable Infrastructure to Secure the Natural Capital of the Amazon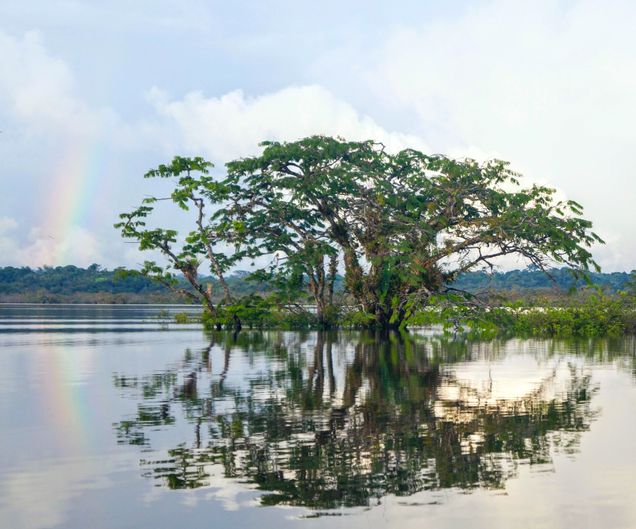 The Amazon stores 120 billion tons of carbon, supports rainfall systems that are critical for regional economies and provides habitat for one-third of the world's species. Investments to secure the Amazon's natural capital are an essential step to supporting sustainable infrastructure. Under traditional approaches to infrastructure development, the Amazon's natural capital is at risk. In response, the call for sustainable infrastructure continues to grow.
In a policy brief, authors Ana Cristina Barros, Bruce McKenney, Amar Bhattacharya, Beatriz Nofal, Carlos Nobre, Kevin P. Gallagher, Linda Krueger and Thomas Lovejoy call attention to the problem of infrastructure in the Amazon. They explain that large-scale infrastructure is a major driver of deforestation in the Amazon, and sustainable infrastructure investments must address the challenge of maintaining the region's natural capital.
The authors propose that the Group of 20 (G20) and development finance institutions promote conditions for quality and sustainable infrastructure investment by:
Supporting international public and private commitments as well as funding mechanisms to bolster Amazon countries' progress in conserving forests, maintaining natural capital and promoting sustainable development.

Supporting sustainable infrastructure policies and guidelines that fully incorporate social and environmental costs for project selection and preparation.

Establishing lending principles that infrastructure investment must be compatible with land, water and forest conservation and healthy ecosystems, necessary to maintain the Amazon's natural capital.

Developing portfolios of small-scale, nature-based infrastructure projects in the Amazon that support local development, poverty reduction and conservation.
Read the Policy Brief