Mindfulness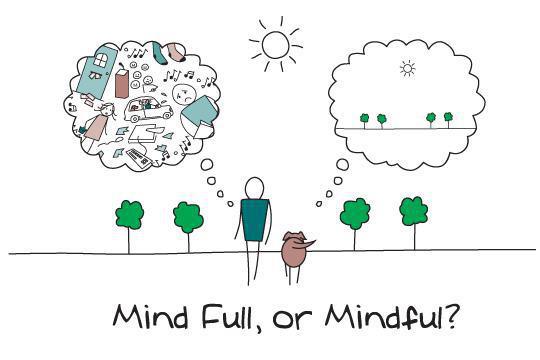 Mindfulness involves focusing one's attention and awareness on the here-and-now. A growing body of research has found mindfulness practices to decrease stress, as well as to relieve chronic pain, reduce anxiety, prevent depression relapse, and to support recovery from disordered eating and substance abuse.
Below are a number of resources available to help you learn mindfulness, and counselors at the FSAO can coach you in developing mindfulness skills.
Apps
BU employees have free access to the Headspace app. To sign in (or to convert an existing account to a BU account) got to the link on the FSAO website.
https://insighttimer.com Free guided meditations.
Websites
Local Resources
Mindfulness at Boston Medical Center: Program for Integrative Medicine & Health Disparities – Sign up for the Mindful Moment emails with links to weekly meditations and reminders to pause mindfulness@bmc.org. Medical Provider Resource Guide with links to meditations in multiple languages.

Cambridge Health Alliance Center for Mindfulness and Compassion
Free Daily practice resources (Spanish and Portuguese sessions available), Lectures and Workshops,
Courses – Mindfulness-Based Stress Reduction (MBSR) and Mindful Self-Compassion (MSC) (scholarships available at $100 rate for eight week courses for BIPOC participants).
Mindfulness Based Stress Reduction Courses
Online Videos, Talks and Courses
Books
Mindfulness: An 8 Week Plan for Finding Peace in a Frantic World. M. Williams & D. Penman. Rodale Books. 2012.
Wherever You Go, There You Are: Mindfulness Meditation in Everyday Life. Jon Kabat-Zinn. Hyperion. 1994.
Altered Traits: Science Reveals How Meditation Changes Your Mind, Brain and Body. D. Goleman & R. Davidson. Avery. 2017.
Less: Accomplishing More by Doing Less. Marc Lesser. New World Library. 2009.
Fully Present: The Science, Art, and Practice of Mindfulness. Susan L. Smalley, PhD, and Diana Winston. Da Capo Press