The sailing pavilion offers beginner sailing classes which are open to the public. You can register via the links below. The class lasts four weeks and includes one 2-hour session per week. Shown below are some of the learning outcomes of the course.
Upon successful completion of the course, students will be able to:
Explain the principles of good seamanship and safe boating
Explore a new approach to problem solving, summarized by the phrase, "The next right decision."
Properly rig and de-rig sailboats
Demonstrate familiarity with technical sailing vocabulary
Tie four nautical knots: square, stopper, figure eight, bowline
Sail a dinghy in light to moderate wind conditions and pass a basic helm test
Tack
Gybe
Dock
Safely capsize and right a dinghy
Demonstrate knowledge of right of way rules
Following completion of the course, students will be able to rent and use our sailboats on their own.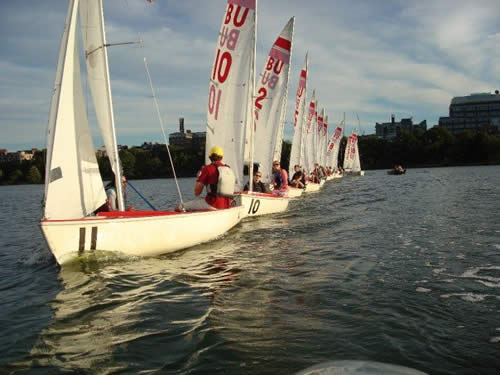 Beginning Sailing Lessons Summer 2019
Ready to set sail? Register here for a beginning sailing class.
Register Here
Private Sailing Lessons Summer 2019
Take a one-on-one sailing class this summer.
Register Here