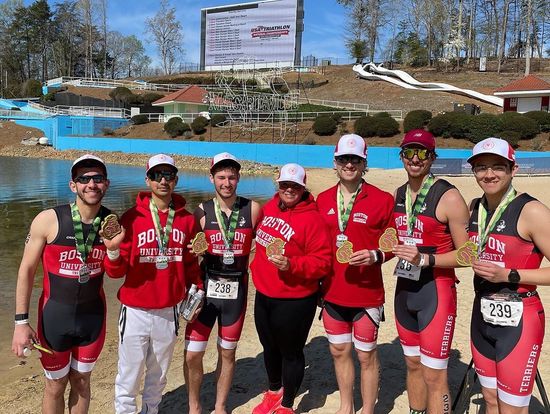 The Triathlon Club is a member of USA Triathlon and competes inter-collegiately in the Northeast Collegiate Triathlon Conference (NECTC). The NECTC season is confined by weather and is therefore in the early fall and late spring. The team members train together all year long and compete in non-collegiate races throughout the summer. The season is composed typically of sprint distance triathlons (500-meter swim, 13-mile bike, 5k run) although many athletes compete in longer distances throughout the year.
The team is composed of athletes with a strong running, swimming, or cycling background who have been competing for years, as well as athletes that do not have any previous experience. The team encourages all full-time undergraduate and graduate students of any skill level to join the team. All it takes is the desire to improve and the willingness to train.
Check out the team's event center for their upcoming schedule and past results!
Donate Now

Interested in donating to the Triathlon Club? Please visit the Terrier Pride Online Gift Form and select "Friends of Triathlon Club." All donations are tax-deductible and go directly to the club of your choice.

Donate