The BU Cycling Club competes as a member of the Eastern Collegiate Cycling Conference (ECCC), which is one of 10 collegiate conferences managed by USA Cycling. Several team members are nationally ranked collegiate racers. The BU Road Team begins training in October. The season begins in early March and runs through the beginning of May. The BU Mountain Team has a short, but highly competitive, fall season, beginning in September and ending in October.
BU Cycling holds regular rides open for undergraduate and graduate students of all skill levels. For eight weekends in the spring we chase road races against 40 other schools of all ability levels, reach for personal achievements, cheer for our teammates, and make an impact in the world of cycling. Members can be found screaming around the corners of a criterium at 25 mph, barreling down a mountain around trees, and coaching new riders on how to pedal faster than they ever knew was possible. The club meets at 9 a.m. on Saturdays and Sundays at Marsh Chapel.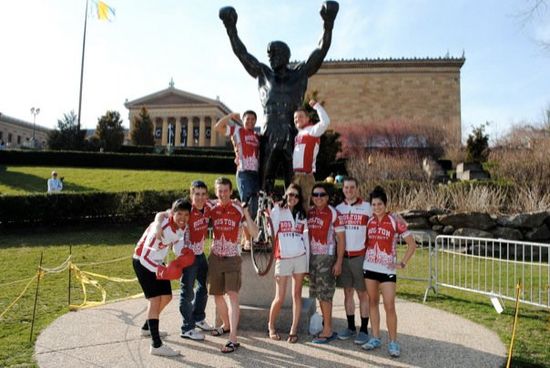 Check out the team's event center for their upcoming schedule!
Donate Now

Interested in donating to the Cycling Club? Please visit the Terrier Pride Online Gift Form and select "Friends of Cycling". All donations are tax-deductible and go directly to the club of your choice.

Donate