FitRec's Covid-19 policies will continue to be reviewed and updated on an ongoing basis and are subject to change. View the latest information here.
Drop Into A Class
Pay per class or drop in for FREE with an unlimited FitPass, or 6-Month or Annual membership.

Register Now
The FitRec Unlimited FitPass
Get your unlimited FitPass here!
Register Now
Summer 2022 Schedule and Class Descriptions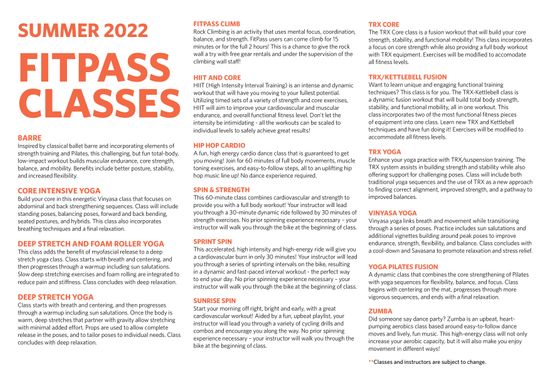 Take advantage of dozens of group exercise and yoga classes each week with the FitRec FitPass for just $100 for the summer! FitPass is included with 6-Month and Annual memberships. Gain unlimited access to all group exercise classes FitRec offers with the FitPass! Check out the Summer 2022 schedule above.
Try all FitPass classes for FREE May 23 – 27. You must reserve a spot in classes you wish to attend even for the free week. See instructions below. Purchase the Unlimited FitPass or drop in to any class you like for $12.
How to register for Unlimited FitPass:
Purchase yours HERE
Be sure to follow directions below to reserve your spot in each class you wish to attend. Reservations open two hours prior to start of class.
How to reserve a spot in a class:
Browse FitPass classes HERE 
Reservations open two hours prior to the start of class
Select the class you wish to attend
Drop-ins are FREE with an Unlimited FitPass or Monthly Membership
Without an Unlimited FitPass, drop-ins are $12 per class
Due to class capacities, you must reserve a spot (online) for every class you want to attend.
Questions? Email fitness@bu.edu for more information.