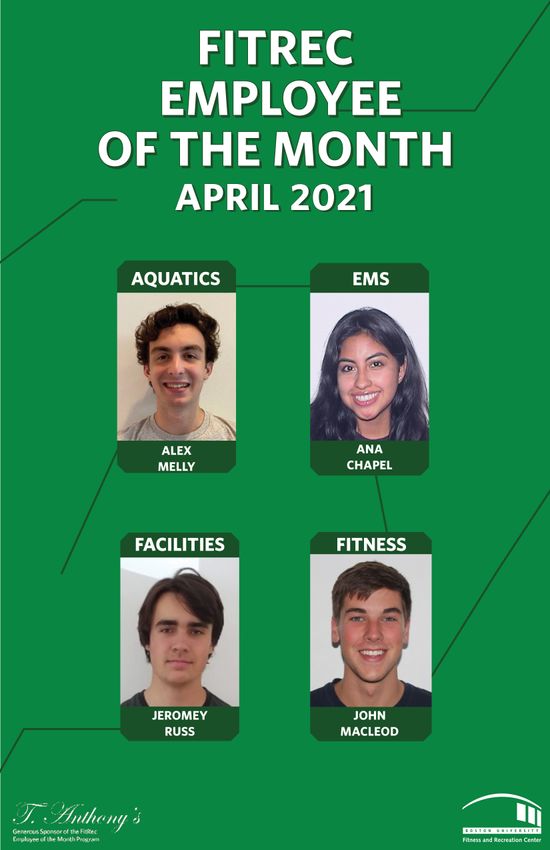 We are pleased to announce the April 2021 Employees of the Month! If you see these students around campus or on Zoom, be sure to congratulate them!
We would like to thank T Anthony's for their support and sponsorship of our employee recognition program. The winners of this month's program will receive gift bags, which include T Anthony's gift certificates and FitRec swag.
Aquatics – Alex Melly
Alex has come to be known as the Aquatics DJ, as he always controls what music is playing during his shifts and everyone likes his taste in song choices. He is great at taking the lead when needed on things that other guards don't know about and has been good with making sure newer guards know what to do. Alex always helps cover shifts, too. He's been a great addition to the Aquatics staff, and we look forward to seeing him grow even more as we start to get busier with reintroducing programming to the Aquatics Center.
Despite being a recent hire, Ana has been a huge asset to the team this month! Ana has picked up the most shifts of our EMTs. She often picks up long hours, and is super responsive and flexible, and helps fill scheduling gaps. Ana has also been consistently on the ball with thorough and detailed paperwork. So glad to have you, Ana!
 Facilities – Jeromey Russ
This spring has been Jeromey's first semester as a member of the Facilities team, but it seems like he's been here for years! He is very comfortable and engaged while working at the front desk. We also appreciate how reliable and focused Jeromey is on shift. Keep up the great work!
 Fitness – John MacLeod
John just joined us this semester but has already been a great addition to the team. He is very organized and detailed-oriented, and always quick to straighten out plates and dumbbells. He sets an example for other new attendants by remaining vigilant within the Fitness Center, and making rounds to ensure everything is in order and gym members are following protocols. John is also very friendly, and we appreciate the positive attitude he brings to the team.