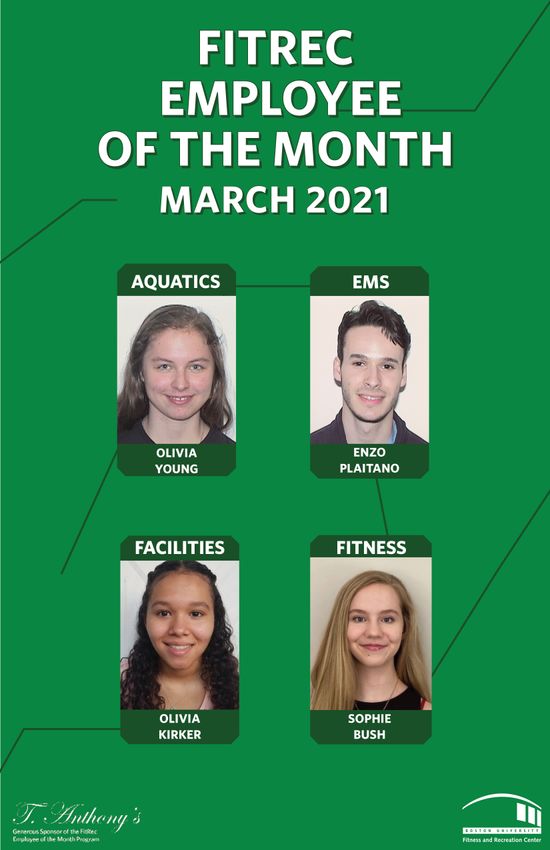 We are pleased to announce the March 2021 Employees of the Month! If you see these students around campus or on Zoom, be sure to congratulate them!
We would like to thank T Anthony's for their support and sponsorship of our employee recognition program. The winners of this month's program will receive gift bags, which include T Anthony's gift certificates and FitRec swag.
Aquatics – Olivia Young
Olivia is a great addition to the aquatics staff. She is very proactive in making sure everything gets sanitized and put away. She doesn't leave until she is sure that everything that's needed to be done is done. She's a great role model for other lifeguards and is a joy to be around when she's working, which is greatly appreciated by the AQ management. We look forward to seeing her grow even more as a member of the Aquatics staff.
EMS – Enzo Plaitano
Enzo is one of our superstar veterans – a reliable face since September 2017! Enzo has been very helpful with vaccination clinics this month, often picking up long hours and being super responsive and flexible to fill gaps. Enzo has also been consistently on the ball with thorough and detailed paperwork. So glad to have you, Enzo!
Facilities – Olivia Kirker
Oliva joined our staff earlier this semester and has fully embraced her role in the department. We can always count on her to take initiative while on shift, treat everyone with respect, and provide excellent customer service. While she is new to FitRec, it is clear that she is capable of making a substantial, positive impact on our team and with members!
Fitness – Sophie Bush
Sophie creates a positive work environment in the Fitness Center. She is friendly and always quick to greet co-workers. As an attendant, she is very willing to pick up extra shifts and help us out. Her commitment to this job is greatly appreciated.