JFK Sculpture, Data Science, Vaccine Origin
BU IN DC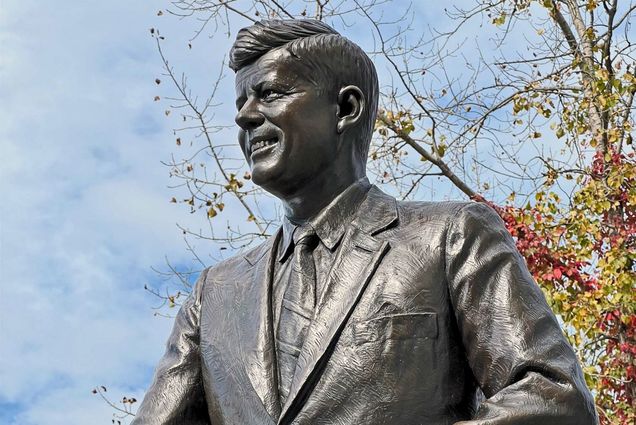 Kennedy Center Unveils Sculpture by Alumnus Ivan Schwartz
Ivan Schwartz (CFA '73) sculpts U.S. history's most famous figures, from President Abraham Lincoln to Harriet Tubman. The Kennedy Center for the Performing Arts commissioned his latest piece, a sculpture of President John F. Kennedy, in honor of the Washington venue's 50th anniversary celebration.
---
ON THE CHARLES RIVER
The Future of Data Science is Here
Data and mathematical science occupations are projected to grow more than 30 percent by 2030, and BU is ready with a new state-of-the-art building, new faculty, and a new major.
Download the data on our future
---
NOTABLE ALUMNI
How Scientists Developed the Revolutionary mRNA Technology inside COVID Vaccines
It all started with a chance encounter between BU alumnus Drew Weissman (MED '87, GRS '87) and Katalin Karikó.
---
THOUGHT LEADERS
In Case You Missed It…
The New York Times Magazine highlighted the sophisticated security measures at the BU National Emerging Infectious Diseases Laboratories… The BU Initiative on Cities 2021 Menino Survey of Mayors found mayors are concerned about constituents' mental health and students' lost class time due to the pandemic… Jonathan Feingold of the BU School of Law explains why critics of critical race theory are actually enacting laws to support it in The Conversation… Sandra Polaski of the BU Global Development Policy Center says that the COVID pandemic is teaching hard lessons on trade policy in The Hill… James Bessen of the BU School of Law weighs in on the benefits and limits of automated writing technologies in The Washington Post.
---