Pete Buttigieg's First Hire in Iowa, a BU Alum, Is Ready for Long Haul
Sydney Throop's months of work for Democratic presidential candidate comes to a head tonight with caucuses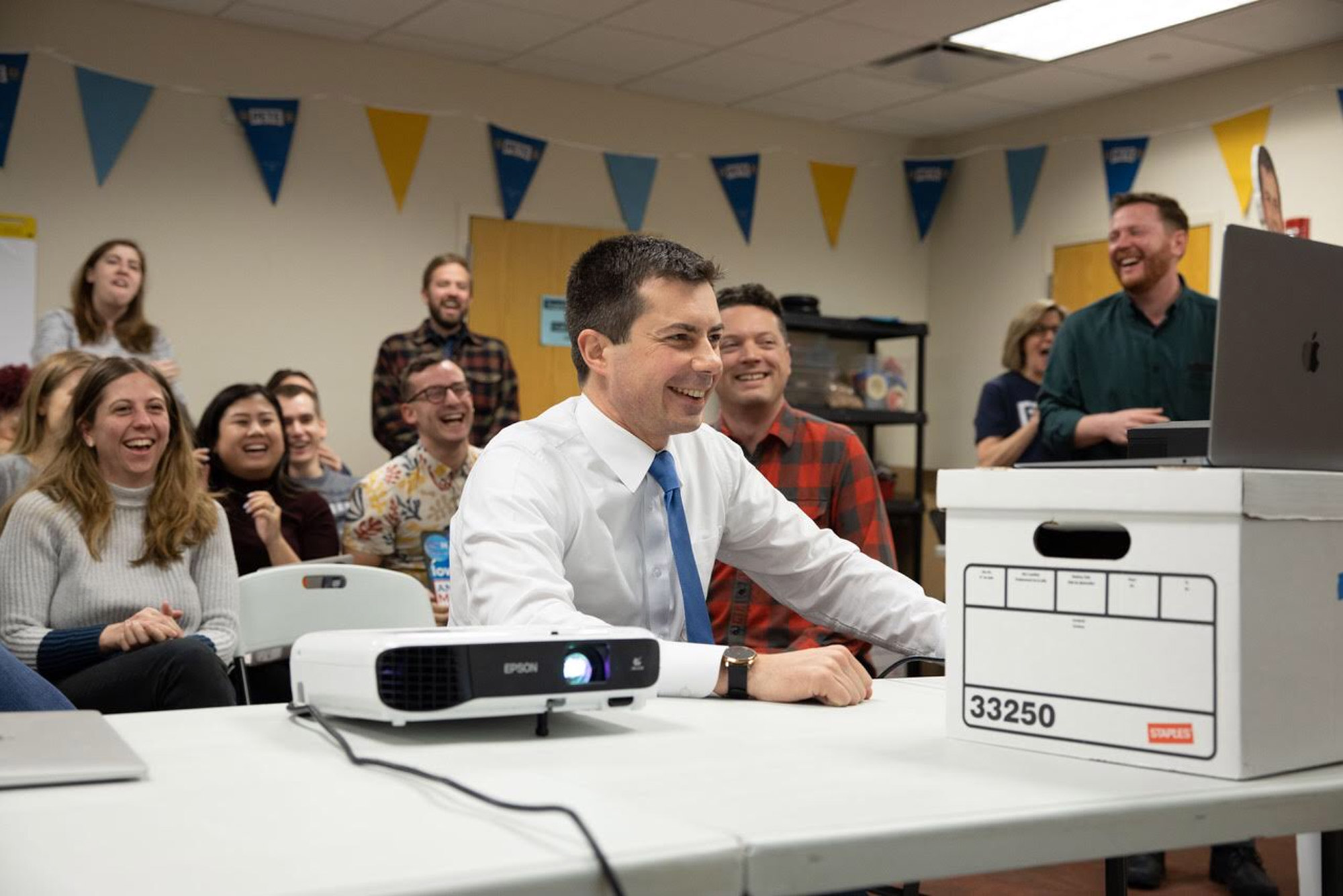 Sydney Throop (far left, in gray sweater) and Pete Buttigieg at Pete for America headquarters in Des Moines, Iowa, for a national staff conference call in early January. Photo by campaign staff photographer Chuck Kennedy.
The late stages of a political campaign feel like a finals week that goes on for months, says Sydney Throop.
For Throop (CGS'14, COM'16), the deputy organizing director for the Pete Buttigieg presidential campaign in Iowa, the work has been  all-consuming, especially in the last weeks before Monday night's Iowa caucuses.
The 26-year-old's day starts by 8:15 am, with texts and email at campaign headquarters—she rolls out of bed and comes straight to work, before she even has coffee—and usually ends after midnight, after many rounds of meetings and phone calls and strategizing.
"It's hard, but I'm just like this," she says a couple of weeks before the caucuses. "It's the perfect job for me."
She's been too busy to go to the grocery store in months. "I fully rely on Uber Eats and the Grubhub app," says Throop. "Sometimes we have supporters bring food to our HQ, which is lovely and really, really kind."
The candidate himself recently broke the culinary monotony.
"Yesterday Mayor Pete brought in some Dunkin' Donuts, so shout-out to Massachusetts there, which was really exciting," she says. "We had Munchkins in the office, which was a staple when I was working in Massachusetts."
Buttigieg has lately been polling in the top tier of Democratic presidential hopefuls, mixing it up with former Vice President Joe Biden, Senator Bernie Sanders (D-Vt.), and Senator Elizabeth Warren (D-Mass.). Not bad for the 38-year-old Harvard graduate and former Naval intelligence officer, whose previous electoral post was the mayoralty of South Bend, Ind. Some of the credit for his surprising longevity in the race has to go to hard-working staffers like Throop.
"I work with our organizing team and our amazing volunteers to help get the word out about Pete here in Iowa," she says. "The day in and day out is thinking about the best ways our team can reach out to caucus-goers. We've been on the ground for many months building authentic relationships and spreading the word about Mayor Pete and figuring out how we can do that in the most effective way."
She builds strategy for the organizers and volunteers: where are they needed, where does the campaign need to focus, where do they put their resources, where do they need more boots on the ground.
"People want to talk to people they know," she says. "That's really effective. How do we encourage our supporters to talk to their friends and neighbors to get them out to caucus? How do we help get more people out there?"
---

My brother is autistic, and I grew up being really passionate about making sure that everyone's voice is heard.

---
She actually doesn't see the candidate often, as most of the time she's buried at the headquarters while he's out on the stump, meeting voters. She was the campaign's first hire in Iowa, arriving more than a year ago. There were just three paid staffers by the time Buttigieg began making regular appearances in the state, and now, she says, they have "huge numbers" of workers and volunteers.
What's Mayor Pete like when he's not in front of the cameras? "Like when he did come in yesterday, he's just really personable and playful," she says. "He wants to bring the joy into the office, and I think that's something folks don't always get to see."
Originally from the Westwood neighborhood of Los Angeles, Throop grew up in a "very, very liberal" household, she says, but only saw the hard work of politics on TV and never knew that campaigning could be a career. She learned early on, however, to fight for what she believes.
"My brother is autistic, and I grew up being really passionate about making sure that everyone's voice is heard," she says. "I wanted to make sure he had a say. I think that was where I learned about being able to advocate for others. I was president of the Best Buddies group in my high school."
She first got her toes into politics at BU, when her friend MacKenzie Marcotte (CGS'14, CAS'16) got her involved with a nonpartisan group trying to get students active in issues that mattered to them. And then she took a College of Communication class called Persuasion in Public Opinion, taught by John Walsh, then a COM adjunct professor, who had managed Deval Patrick's successful 2006 gubernatorial campaign.
"I could not stop thinking about this class," she says. "This guy was talking about movements and organizing and things I never heard about before. And how you take action around issues, people together making change, standing up for things we care about. I was so inspired."
Walsh's class and their discussions changed her trajectory, she says, even more so when he suggested she join Fair Shot for All, a grassroots group organizing to close the income gap in Massachusetts. Two weeks after Commencement, she was knocking on doors around Greater Boston as a community organizer for the group. Soon she was campaigning in New Hampshire for Hillary Clinton on weekends. Later she found a role with Josh Zakim's primary campaign for Massachusetts Secretary of State in 2018, and not long after Zakim lost to incumbent William Galvin in the September primary, she was off to Iowa.
Win or lose, what's next for her after the Iowa caucuses?
"I can't even think farther than February 3, I really can't," she says. "There's a lot to do."
---
Author, Joel Brown is a staff writer at BU Today and Bostonia magazine. He's written more than 700 stories for the Boston Globe and has also written for the Boston Herald and the Greenfield Recorder. View his profile