Anthony Janetos Remembered for His Leadership, Dedication, and Scholarship
World-renowned CAS expert on climate change died Tuesday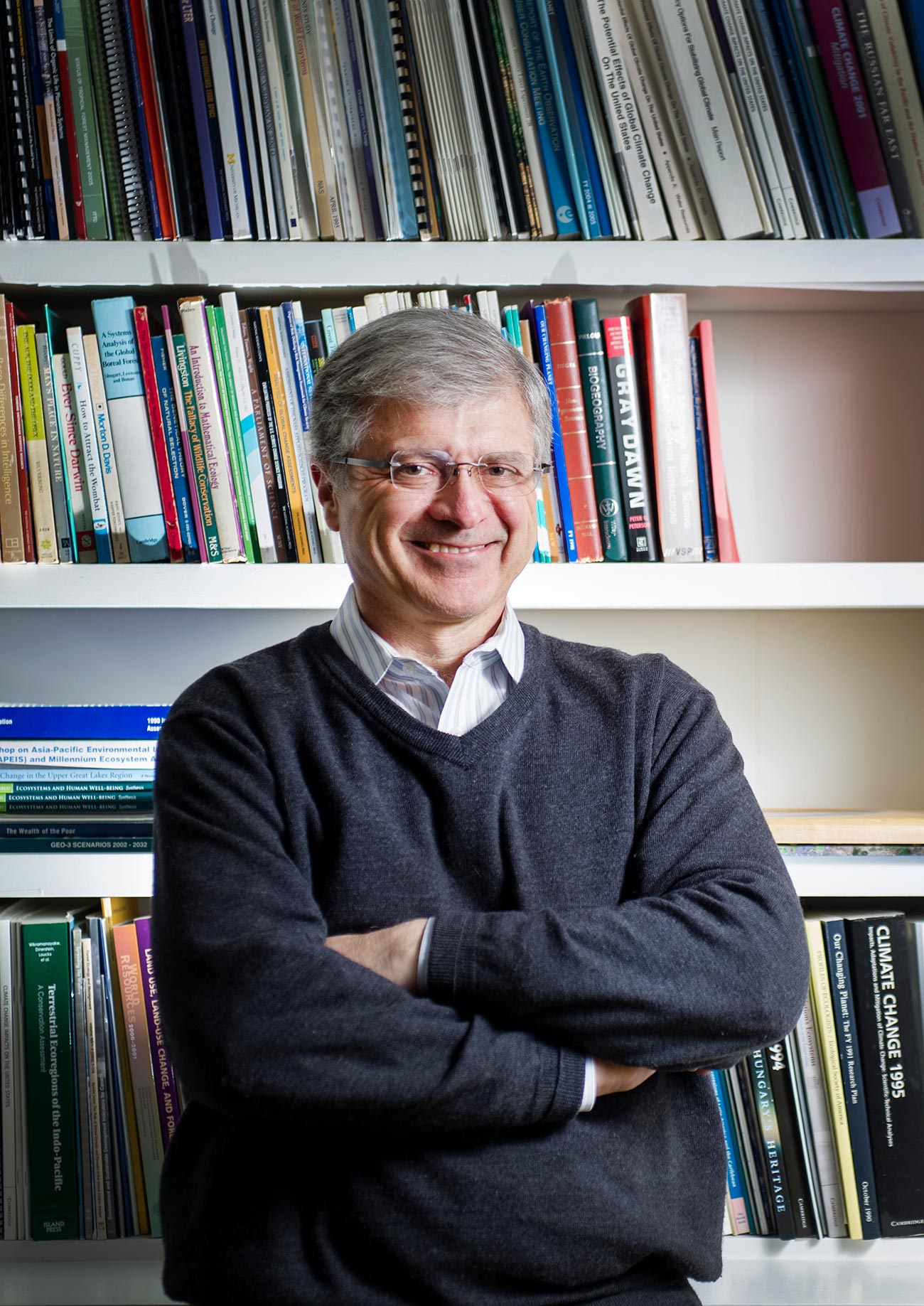 Anthony Janetos, an internationally renowned climate change researcher and director of BU's Frederick S. Pardee Center for the Study of the Longer-Range Future, died August 6, following a brief illness. Photo (left) by Jackie Ricciardi.
Anthony Janetos was not only an internationally renowned expert on climate change, he was fearless in the face of deniers.
Janetos, who died August 6 of pancreatic cancer, cut short a lecture last winter at the Andover, Mass., library—he'd been invited as director of BU's Frederick S. Pardee Center for the Study of the Longer-Range Future—when a heckler yelled "liar" at him. When other spectators grew disruptive as well, the moderator ended the talk and summoned police to make sure things remained calm.
Janetos shrugged off the tempest.
"I look at this as I'm not out to change anyone's mind, but I'm just out to tell you the truth," he told the Lawrence Eagle-Tribune.
Janetos was eminently qualified to discuss the truth of climate change science. Before coming to BU, where he was also a College of Arts & Sciences professor and chair of earth and environment, six years ago, he'd headed the Joint Global Change Research Institute at the University of Maryland, directing specialists in multiple fields in tracking climate change and mapping possible fixes. He had also held positions at NASA and the Environmental Protection Agency.
He also advised the United Nations on climate change, President Robert A. Brown wrote in announcing Janetos' death to the faculty.
"Tony was (and will ever be remembered as such) vital, energetic, engaged, and intelligent," Brown wrote. "His death is hard to countenance against the recollection of his vitality and because it comes out of what we prefer to hope are the normal seasons of life." (As one example of that vigor, Janetos played what he called "old man baseball" in a summer adult league.)
"He issued warnings [about climate change]," the president wrote, "some necessarily urgent, but these were not proffered in the manner of a scold but with the judiciousness of the scientist steeped in evidence and concerned to make a difference."
---

I look at this as I'm not out to change anyone's mind, but I'm just out to tell you the truth.

---
Addressing lay audiences, as in Andover, showcased his "ability to be both scientist and communicator of the science, bridging the gap with which so many others struggle," says BU sustainability director Lisa Tornatore (CAS'02).
Janetos' scholarship blended disciplines to tackle issues like a warming planet, says Gloria Waters, vice president and associate provost for research. "He was able to look at global issues through a variety of lenses—scientific, environmental, policy, economic—and he brought together teams of natural scientists, social scientists, biologists, and engineers to work on these issues," she says.
Waters cites his leadership role in several national and international climate change study groups, in particular as cochair of the US National Assessment of the Potential Consequences of Climate Variability and Change, part of a congressionally mandated program to coordinate federal research and investment.
As founding program manager of NASA's Land-Cover and Land-Use Change Program more than two decades ago, Janetos was a "visionary in promoting understanding of the role that humans play" in global environmental change, particularly in society's modifying land surfaces, says Mark Friedl, a CAS professor of earth and environment. Janetos also was a contributing author to last year's National Climate Assessment, drafted by experts under a federal advisory committee.
Tackling "some of the hardest challenges facing society," Janetos chaired BU's Climate Action Plan Task Force, notes Lucy Hutyra, a CAS associate professor of earth and environment. The Task Force drafted the blueprint under which the University will spend $141 million over 10 years on capital improvements that will cut greenhouse gas emissions. It also recommended that BU invest in green power from outside New England's relatively clean grid. That recommendation was one of the reasons for last year's decision to buy power from a wind farm under construction in South Dakota, for resale in the midwestern United States.
"He pushed us forward on critical, systemic change at the University," Hutyra says. She also notes his work with students, particularly Pardee's Graduate Summer Fellows—"one of his favorite parts of the year"—providing BU grad students with research and writing opportunities.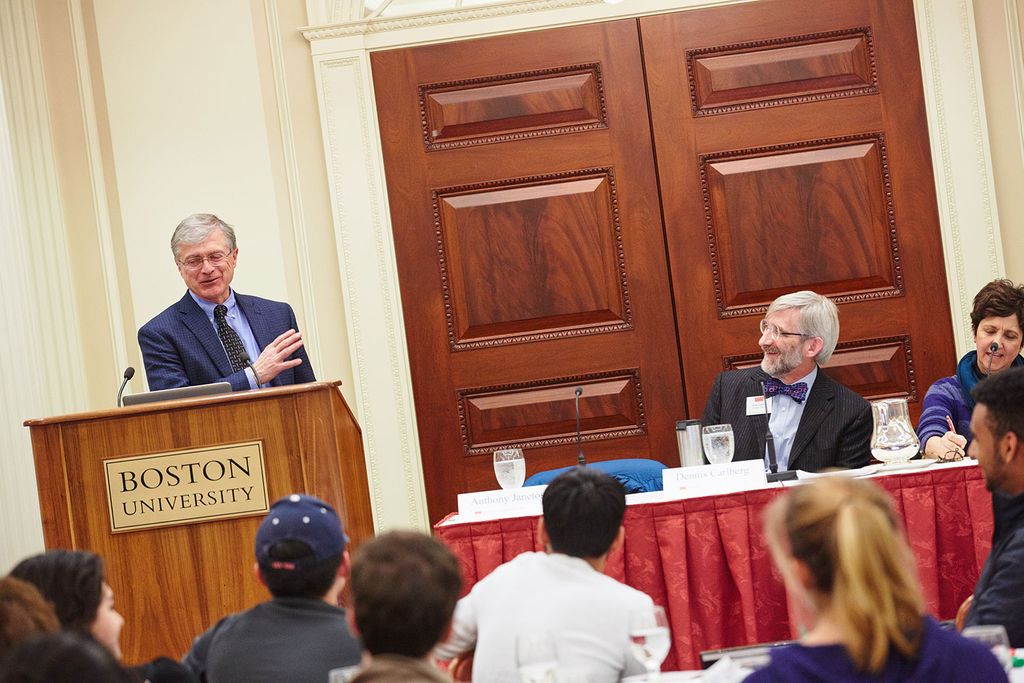 Dennis Carlberg, associate vice president for University sustainability, became close to Janetos while serving with him on the Climate Action Plan Task Force, "one of the greatest privileges in my professional career," he says.
"Tony has been a critical partner in its implementation," Carlberg says. "His loss is painful personally, but the loss of his future contributions to the University is what concerns me most."
At the Pardee Center, Janetos "expanded the reach of our network to bring in other disciplines," says center associate director Cynthia Barakatt. Among those efforts are the Faculty Research Fellows, who conduct two- or three-year interdisciplinary projects with seed money from the center.
That interdisciplinary focus found footing as well, Barakatt says, in his work to provide policymakers with models of both climate change and the financial costs from it. He coauthored a paper two years ago that proposed indices for measuring climate policies' effects on industrial companies, investment funds, and governments.
Even after his cancer diagnosis, Janetos remained upbeat, says Guido Salvucci, a CAS professor of earth and environment and interim department chair. "In fact, he didn't step down from the chair position at first, and instead worked through it until chemotherapy treatments started to tire him too much. He was extremely dedicated, positive, and optimistic."
Waters, who met with Janetos monthly, says he and his wife, Valerie Gamache, recently moved from Boston to North Hampton, N.H., near where he grew up, and his "first topic of discussion was always the traffic on Route 1 and the Tobin Bridge. Next, we moved to his family—his kids, what they were doing, where they were traveling as a family, sometimes a little bit about the cats and dogs—and then it was on to business."
He was as attentive to the families of others. Knowing Hutyra's six-year-old son had a passion for geology, Janetos and his wife assembled a display box of rocks for him—cleaning, treating, and organizing the samples. "I brought the rocks home and my son was over the moon," Hutyra says. "Tony regularly just did the little things to make our community a better place."
A Red Sox and Celtics fan, he coached youth basketball when his children were growing up, Barakatt says.
"Tony Janetos was an outstanding and accomplished scientist, scholar, teacher, and leader," Jean Morrison, University provost, says. "He was a tireless and eloquent advocate who devoted his career to imagining and working collaboratively to create a better world for all of us. Perhaps most importantly, he was a fantastic person and friend to so many across our campus and beyond.
"Someone so generous with both his time and himself—he was just a lovely human being. His impact will be felt for many, many years to come, and our hearts go out to his family and loved ones."
Janetos earned a bachelor's degree magna cum laude from Harvard in 1976 and a master's and a PhD in biology from Princeton.
He is survived by his wife, his children, Peter and Anna (CAS'18), four brothers, and many nieces and nephews. Funeral arrangements are pending.
---
Author, Rich Barlow is a senior writer at BU Today and Bostonia magazine. Perhaps the only native of Trenton, N.J., who will volunteer his birthplace without police interrogation, he graduated from Dartmouth College, spent 20 years as a small-town newspaper reporter, and is a former Boston Globe religion columnist, book reviewer, and occasional op-ed contributor. View his profile