Controversial Civil Rights Activist Angela Davis Draws Big Crowd to BU Talk
"Through black history we learn the best of the history of the United States of America," she tells packed house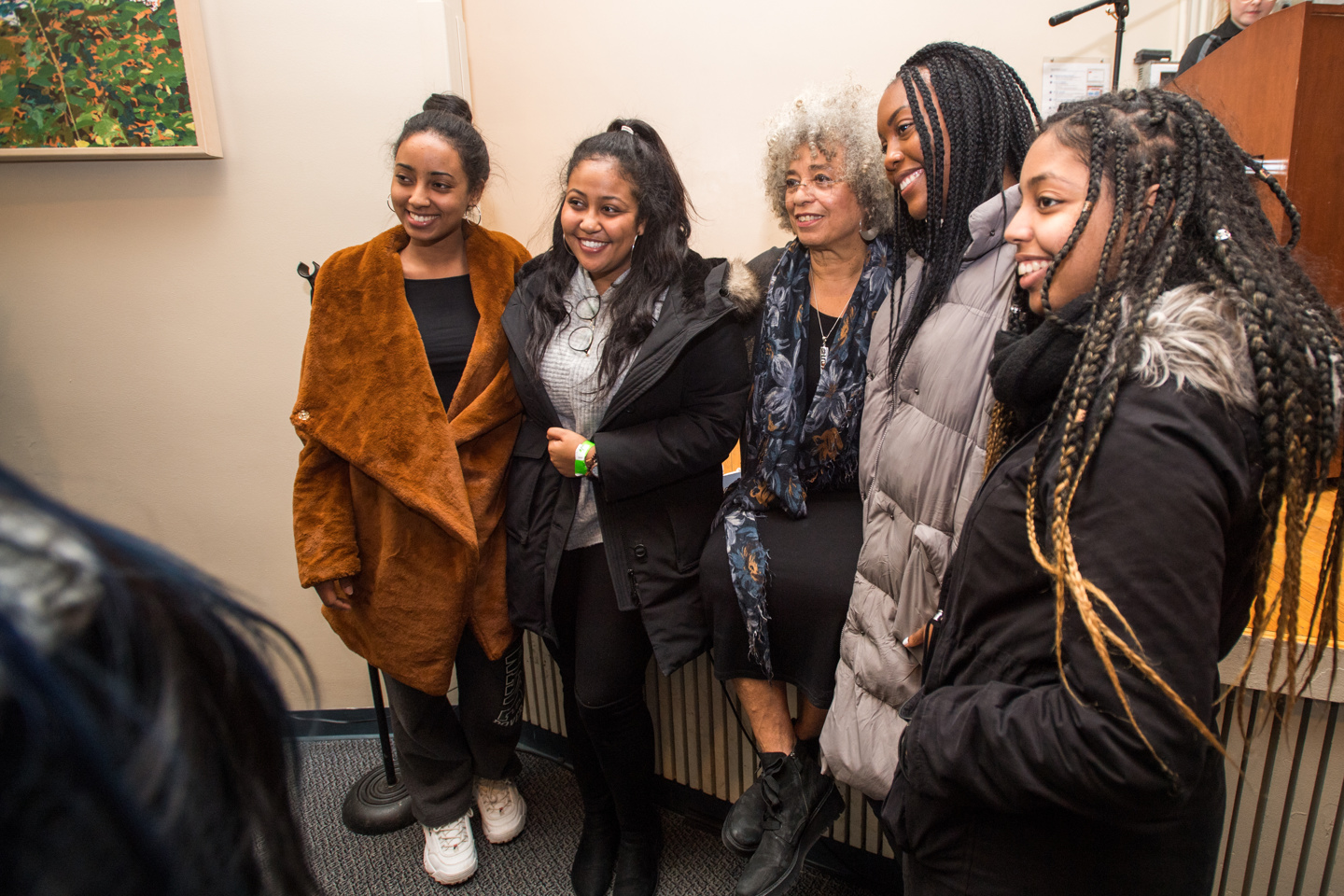 Angela Davis, activist, academic and author took time to chat with students and pose for photos with them, including Feven Solomon (CAS'21), from left, Kalkidan Tewodros (Questrom'21), Davis, Grace Mecha (SAR'21), and Zanta Ephrem (SAR'21) after speaking to a full crowd in Jacob Sleeper Auditorium February 9, 2019. The event, entitled Angela Davis: Violence Against Women and Its Ongoing Challenge to Racism! was made possible by The Boston University Undergraduate Sociology Association.
Controversial feminist icon, civil rights leader, scholar, teacher, and author Angela Davis stood in front of a packed Jacob Sleeper Auditorium Saturday night, sipping ginger tea in a blue thermal mug she'd brought herself, because, she said apologetically, she had a cold.
The title of 75-year-old Davis' hour-long talk was broad—Violence against Women and Its Ongoing Challenge to Racism—and she had much she wanted to share with an audience of some 600 students, faculty, and staff. But her main message was a hopeful one—that people, and movements, are connected over decades, even centuries, of history, and that change can happen, but it takes time and you have to be patient. "Through black history," Davis said, "we learn the best of the history of the United States of America, because that history is an unbroken struggle for freedom."
She was charming, erudite, self-deprecating, and funny. She did not ignore having been a polarizing figure over the years, and even brought up the recent roller-coaster events in her hometown of Birmingham, Ala.: the Birmingham Civil Rights Institute selected her for a human rights award, then rescinded the award amid protests over her support of a boycott of Israel, only to reverse itself—amid a new outcry, this time in support of Davis—and announce she would be given the award after all.
It was hardly her first brush with controversy. In her many books and lectures around the world, Davis has been outspoken on issues from race relations to poverty to gender violence. She was on the FBI's 10 Most Wanted List in the early 1970s, was fired from her position as a professor at UCLA, was accused of being a communist organizer, and spent more than a year in jail.
The audience laughed when, flashing a big smile, Davis said, "I keep asking myself, why do I end up at the center of all these controversies? I'm actually happy this happened. It gives us a new opportunity to understand the ways in which the different forms of violence connect, the relationship between racism and anti-Semitism and Islamophobia and it allows us to combine our scholarship and our activism with our collective imagination and our passion."
Throughout her talk, she connected the aftermath of slavery to the often overlooked early activism against sexual violence of Rosa Parks and other black women of her generation, to the Montgomery bus boycott led by black leaders like Martin Luther King, Jr. (Graduate School of Arts & Sciences'55, Hon.'59), to the fight against mass incarceration, and to the Black Lives Matter and #MeToo movements.
Davis, whose scholarly papers were acquired last year by Harvard University's Schlesinger Library on the History of Women in America, said that "over decades and decades and centuries, black people have refused to give up. And that hope in the black struggle represents the hope for democracy in this country and the world."
The audience gave her one of many rounds of resounding applause.
She acknowledged that "we live in a violence-saturated society," with gender violence, economic violence, racist violence, and school violence all "linked to institutional and ideological structures." And yet, she said, "I want you to imagine a world without violence. We need to find ways to talk about violence that doesn't affirm their permanence, because they can be ended."
She talked about the importance of seeing the universality of the lives of people of color. "Oftentimes the slogan 'Black Lives Matter' is interpreted as only black lives matter," she said. "So why is it that so many people counter by saying all lives matter. You say black lives matter, they say no, all lives matter.
"But the whole point," she said, raising her voice, "is that if ever black lives were to truly matter, then all lives would really matter."
The audience applauded again. Among the crowd, freshman Kathryn Pollack-Hinds sat transfixed. "She was a household name in my family when I was growing up," Pollack-Hinds said before Davis took the podium. 
Many students of color were in the crowd, among them a number of young women who said they had grown up hearing Davis' name spoken with something like awe, and that they had long admired her.
Introducing Davis, Saida Grundy, a College of Arts & Sciences assistant professor of sociology and of African American studies, said among Davis' earliest memories of her childhood, in a segregated Birmingham, were the sound of bombs exploding in the home of a black family across the street (the family had dared to move to the edge of a white neighborhood). Grundy said, quoting Davis, that later there was the bombing of the 16th Street Baptist Church (carried out by the Ku Klux Klan), which killed four black girls. One of the girls lived next door to the Davis family. Angela Davis was a close friend of another of the girls and her sister was close friends with three of them. Her mother had taught all of them in her classroom.
"The bombings of Birmingham would ricochet the surviving children out into the world," Grundy said, noting that one of those surviving children was her mother, Ann Beard Grundy, who was with her in the Sleeper audience. "Our speaker today is the living evidence that those daughters of violence emerged as mothers of the movement."
Davis "has set the standard for scholar activism," she said, and her work "has spanned decades of feminist thought, political philosophy, Marxist theory and practice, divestment from apartheid and occupation, contemporary social movements, queer liberation, and prison abolition."

During the Q&A after Davis' talk, a young woman asked if Davis thought macro problems like racism and healthcare and economic inequities could ever be solved.
"Sometimes we have to pause and say that things don't have to be the way they are—and to imagine a different time, when education is free," Davis said. "Healthcare should be free for everyone…. It's about the monopolization of the wealth that is produced on this planet. So, yeah, that means we have a long struggle ahead of us."
Angela Davis: Violence against Women and Its Ongoing Challenge to Racism was organized by CAS sociology senior Claire Lawry and junior Zahra Thani, with support from the Undergraduate Sociology Association, and was cosponsored by several BU schools and departments.
Author, Sara Rimer can be reached at srimer@bu.edu.