Winds of Change
CAS scientists look to coral reefs for how Pacific gusts influence global climate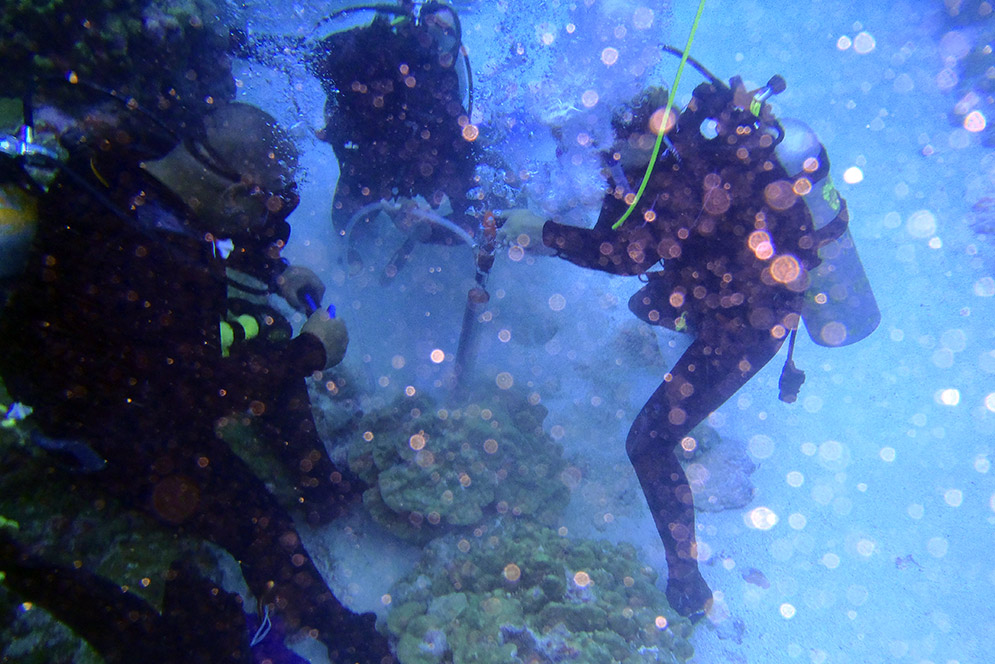 Diane Thompson extracting a core from a live Porites coral colony at Kiritimati in 2012. Photo by Elizabeth Wiggins.
Winds in the tropical Pacific are poorly characterized, yet affect climate worldwide
Scientists use the chemical fingerprint of winds captured in coral to re-create wind records
Their work will help them understand how Pacific winds relate to rates of global warming
---
In the 18th century, sailors' understanding of trade winds allowed them to circle the globe in merchant ships, exploring and trading along the way. Today, scientists understand that these winds, which blow persistently from east to west in the tropical Pacific, influence weather patterns worldwide. Researchers at Boston University want to better understand this relationship between trade winds and climate change, so they're tapping a curious source of information: trace metals hidden in coral reefs.
Coral cores extracted from pristine tropical coral reefs in the Pacific may seem like an unlikely tool for re-creating historical wind records, but Diane Thompson, a College of Arts & Sciences assistant professor of earth and environment, and postdoctoral researcher Hussein Sayani are using them for just that. Researchers in Thompson's Tropical Climate & Coral Reefs Laboratory are analyzing coral records to characterize the strength and direction of tropical Pacific winds over the past century, work that will help them better understand the relationship between wind patterns and global climate.
"Winds are really important for regulating the rate of global warming," says Thompson. "But we haven't been recording winds for very long, so we need some other way to look at them, and these coral records provide a window into past winds."
Thompson and Sayani are studying two sites in the tropical Pacific: Kiritimati (Christmas) Island and Butaritari Atoll. At each site, they are measuring manganese in corals to determine the strength of trade winds and El Niño winds over the past 100 years. Because strong winds from the west—typically El Niño winds—release trace metals trapped in the lagoon sediments that are then incorporated into coral skeletons growing on nearby reefs, manganese spikes in the corals record the fingerprint of weaker trade winds and El Niño conditions. Sayani is presenting their initial results at the American Geophysical Union fall meeting December 11, 2017.
Reliable wind records exist only from the 1970s; for information about earlier times, researchers have to rely on records of where large vessels sailed. Consequently, wind records are particularly sparse for the tropical Pacific region, where the doldrums, a low-pressure area of calm winds, discouraged ships from sailing. And yet wind patterns in the tropical Pacific can influence climate worldwide; strong trade winds in the tropical Pacific pull heat out of the atmosphere and drive it down into the ocean, causing global warming to slow, while weaker trade winds allow more heat to escape into the atmosphere, accelerating global warming.
"Obviously the climate is warming, but there are these natural variations," says Thompson. "It turns out that winds in the Pacific are a big part of that story." Weaker trade winds in the Pacific are also associated with stronger El Niño winds, she says, which can trigger extreme weather events all over the world.
Thompson and Sayani's experimental technique takes advantage of natural geography and the way corals incorporate trace metals as they grow. Thompson first used it at the Tarawa Atoll in the tropical Pacific to study how variations in wind strength from 1894 to 1982 relate to the rate of global warming. The Tarawa Atoll's lagoon is protected on the east and exposed to the west, surrounded by corals, and has manganese buried in its sediments. The trade winds blow from the east and hit the protected side of the island, leaving the manganese undisturbed. However, before and during El Niño events, short, strong wind bursts blow from the west, hitting the exposed side of the lagoon and stirring up the manganese.
"Corals are incorporating these trace metals into their skeleton as these events occur," Thompson explains, adding that manganese spikes indicate strong El Niño winds and weak trade winds, while no manganese indicates strong trade winds, with no El Niño winds. At Tarawa she found trade winds were weak during a period of global warming from 1910 to 1940 and strong when global temperatures were stable from 1940 to 1970. These results, published in Nature Geoscience in 2015, supported a link between Pacific winds and global climate.
Thomas Marchitto, a University of Colorado, Boulder, paleoclimatologist, is enthusiastic about the team's experimental technique. "Winds over the tropical Pacific are important for the Earth's climate, but there aren't good proxies for winds or ways that we can quantitatively reconstruct them in the past, so it's a really clever approach to use the manganese concentration in corals as a measure of these westerly wind bursts," he says.
Now, Thompson and Sayani are applying this technique to two new tropical Pacific sites with similar geography: Kiritimati and Butaritari Atoll. They are analyzing coral cores at two-month intervals, and using the size and timing of manganese spikes to piece together the strength and timing of El Niño wind bursts over the past 100 years. So far, they have found that at both sites, manganese spikes match up with westerly wind bursts from the 1997–1998 El Niño event, and they are now measuring manganese in corals growing at Kiritimati during the 2014–2016 El Niño event.
Once they confirm that the technique works at the new sites, Thompson and Sayani hope to use their results to better understand how Pacific trade winds relate to the rate of global warming. Their research to date implicates tropical Pacific wind strength in regulating rates of global warming, suggesting that warming will likely accelerate in the coming decades when the cycle reverses and the trade winds weaken once again. They would also like to learn more about El Niño: Thompson explains that some El Niño events move all the way across the eastern Pacific, while others seem to lose steam in the central Pacific, a difference that "has big implications for climate. By reconstructing winds at these different sites we may be able to pull apart which type of El Niño events may have developed based on where the wind events occurred."
Reconstructing past wind records is important for future climate predictions. "As we're warming the planet, it's not clear at all how variability in the tropical Pacific is expected to change," Marchitto says. "The more we can reconstruct that in the past under different conditions and see if there are any consistent patterns, the more we can understand how that system may behave in the future."
Kristine DeLong, a paleoclimatologist at Louisiana State University, says the team's efforts are "really exciting for the world of paleoclimatology," and she thinks their research could improve climate modeling in two main ways: it will provide modelers with more and better data to incorporate into models, and it will allow modelers to check their accuracy by comparing their outputs to the historical record.
While Thompson and Sayani want to eventually incorporate their data into climate models, their next step will be taking an even deeper dive into the past, attempting to use fossilized coral to reconstruct wind patterns from 3,000 to 5,000 years ago, a period when El Niño events started becoming stronger and more frequent.
"During that time there were natural changes in the climate system that we think had big implications on how and when and why El Niño events formed," Thompson says. "And when you combine that with our understanding that winds are probably linked to rates of warming, using these fossil corals, we could understand why winds are changing in the first place and how they may have regulated past climate changes."
Author, Catherine Caruso can be reached at catherine.c.caruso@gmail.com.