Meet Nthabi!
Nthabi is a patient-facing mobile application designed to improve the health of reproductive-aged women in Lesotho, a small nation in South Africa. She is an animated nurse that talks to users about their health and shares a fun and interesting story each day to promote user engagement. Women will have the option to listen to a new chapter of the story every day over the 2-month trial period.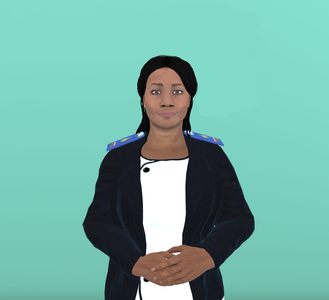 Nthabi has been adapted from the pre-existing "Gabby System" to be culturally appropriate and streamlined for women in Lesotho. The Nthabi app is an Android-based preconception care intervention that is user-friendly, evidence-based, and scalable. Nthabi provides comprehensive health education on the following topics:
Family Planning

: Users will learn about different family planning methods.

Folic Acid

: Users will learn about the nutrient and its importance for healthy hair, skin, nails, and eyesight.

Healthy Eating

: Users will learn about engaging in healthy eating habits, as well as the benefits of adopting a healthy diet.

HIV Education and Testing

: Lesotho has a high rate of HIV. Nthabi gives users the opportunity to debunk any myths, stigma, and misinformation surrounding HIV.

Tuberculosis (TB)

: Nthabi will discuss the ways to manage TB, as well as the importance of  getting tested for TB and taking TB medication.