Project Nthabi in Lesotho
Lesotho has the second highest HIV and fifth highest TB prevalence rate in the world. With 6.2 nurses and 0.5 physicians per 10,000 people, there is a demonstrated need for eHealth systems to assist the current clinical health care system. The Lesotho Boston Health Alliance (LeBoHA) is working to strengthen the health care system of Lesotho, and is our partner in the Nthabi implementation. 
This project is designed to assess the appropriateness and feasibility of the Nthabi App and includes two stages: pre-testing and the clinical trial. The primary outcomes of this study are based on the Trans-theoretical (TTM) Model of Behavior Change, which is used to inform the content in the Nthabi app.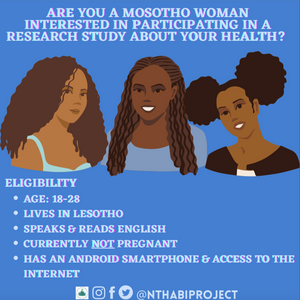 In order to use the Nthabi app, eligible participants must:
Be residents of Lesotho

Be female ages 18-28
Be able to speak and read English
Have access to an Android smartphone
Not be pregnant at time of enrollment
Have access to internet/Wi-Fi at least once at the end of the two-month trial period
We are currently recruiting women for the clinical trial, please contact +266 59539526 or +266 59230522 on WhatsApp to learn more.