Gabe Men's Health Promotion Program
---
Gabe Men's Health Promotion Program
The Gabe System is a web-based program designed to provide young Black and African American men with access to relevant and culturally sensitive health information that will help them become empowered to make more informed decisions about their physical, social, and emotional health.
In using the system, men will first complete a risk assessment which allows Gabe to tailor educational content based on each young man's individual health needs. Gabe will then assess the users' desire to work towards positive behavior change and employ motivational interviewing strategies where appropriate.
Over time, Gabe will work with users to review the identified areas of concern and help educate them as to why their current behavior might pose a risk, set realistic goals towards risk mitigation, and periodically follow up with them about their progress. The Gabe program is designed to work with users over the entire course of risk reduction, tracks their behaviors over time (e.g. diet, exercise, or smoking), and provides them with information about resources that can assist them along their journey.
---
Health Domains in the Gabe System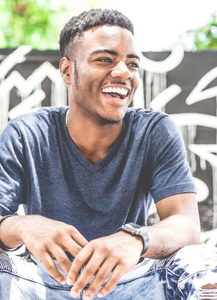 Emotional Health
Medical Conditions and History
Access to Medical Resources
Healthy Relationships

Interpersonal and Family
Family Planning
Intimate Partner Violence

Diet, Exercise, and Sleep
Injury and Violence Prevention
Substance Use
Criminal Justice Contact
Housing, Employment, and Education
Adverse Childhood Events
Discrimination and Resilience
---
Provided below is additional information for interested clinic sites. 
Please click thumbnail to view.