The Healers's Art: Inspiration Continues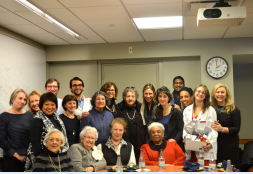 The Healer's Art, originally developed and offered by Dr. Rachel Naomi Remen at UCSF in 1993, is a curriculum designed to address the human dimension of medicine. This 15-hour elective course is now offered at over 60 medical schools in North America and is now in its tenth year at BU Medical School. Course topics include: maintaining personal-professional balance as a physician; learning how to help patients grieve loss; fostering an appreciation for the intangible mystery inherent in life and death; and medicine as a calling to service. My own path on Healer's Art started years ago when I was a first year medical student at Yale. The course left me more certain than ever of the kind of physician I hoped to be and the kind of people with whom I hoped to work. (It was also where I met and befriended our now Surgeon General of the United States, Dr. Vivek Murthy). I am now honored to serve as the Course Director and am amazed, so many years later, to witness and experience how students continue to open and be impacted by this completely voluntary five evening session course. This year was no exception.
We had 4 faculty leaders (Dr. Robert Saper, Dr. Oscar Cornelio-Flores, Dr. Rick Long and Dr. Jennifer Siegel), 4 student advisors, and 30 medical students. Some comments from students about the course included:
"This was an amazing avenue to look into my own life and path."
"The course gave me the opportunity to connect with other medical students in a way that I had not done before. I think that all medical students should take this class to become more connected to not only their career but to each other and to themselves"
"Brings us together in a safe setting where we were not graded to talk about REALLY important things."
As part of the final class, each student was given a hand-sewn heart to carry in their white coat pocket as a reminder of what they had learned. These hearts were sewn by a beautiful and committed group of seniors who come together weekly to sew hearts for students, patients, soldiers, and refugees. On a snowy and numbingly cold wind swept day, 13 of these seniors drove to the medical school campus to meet us for lunch and to present our student leaders with these soft hearts for the course. Though they had sewn hearts for our students for years, they had never stepped foot on campus. They were a sight to behold. The oldest- 93 years of age- was walking faster than the rest of us and was quick to help herself to a large plate of spinach. Inspiration indeed!
–Katherine Gergen-Barnett, MD