One Drop at a Time: BU iGem Team Brings Home Gold Medal
by Allison Kleber
The annual International Genetically Engineered Machine (iGEM) competition is a momentous opportunity for engineering students with a passion for synthetic biology to gain valuable hands-on experience and make their big ideas into solid reality. Boston University has sponsored a team for the competition for many years now, with the dedicated support of Professor Douglas Densmore and STEM Pathways. In 2022, the BU Hardware team's hard work paid off with multiple honors: a gold medal and a nomination for the Best Environment Project. Even more importantly, they fulfilled the mission they began with: to create a novel technology with the potential to make a meaningful impact on society.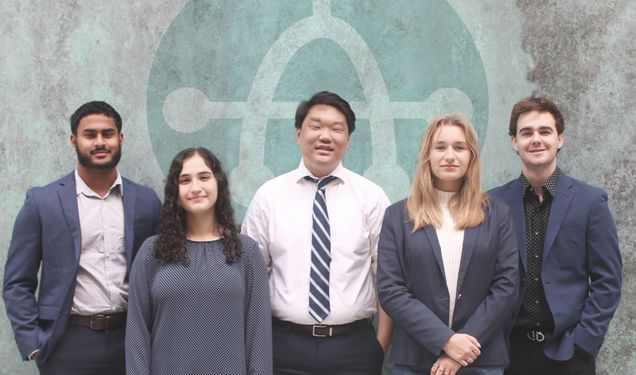 The 2022 BU team, Aquamatic Technologies (AT), designed a hardware system intended to improve and streamline the process of testing water samples for contaminants using biosensors (biological systems, such as bacterial colonies, which can be "used for detecting foreign materials by converting signals to measurable responses," according to the AT website). In designing their product, the team placed particular emphasis on user-friendliness, modularity, portability, broad compatibility with a variety of existing systems and installations, and customization. As their slogan suggests, their target was the capacity to do no less than "[test] the world's water, one drop at a time;" they have built a prototype for a technology that they envision deploying worldwide.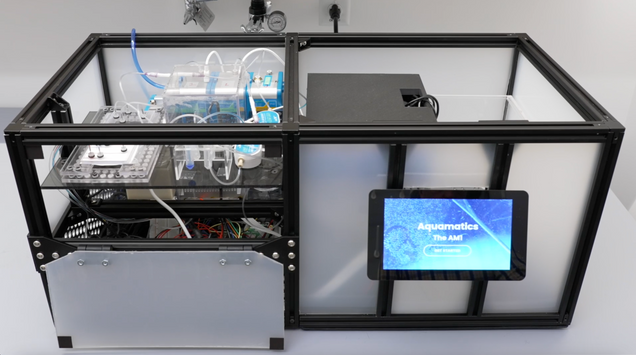 That technology, dubbed the AM1, is a self-contained water-testing system made up of components which can be rearranged and customized for a variety of purposes; the housing keeps the electronic and fluid components safely separate, but integrated, and can be disassembled easily for transit or cleaning. It utilizes microfluidic technology–cheaply and easily produced plastic chips which use very small amounts of liquid for testing–for a fully automated testing process which combines a water sample with a chosen biosensor and measures the resulting reaction.
The water sample can either be added from the existing environment which the user wishes to test, or it can be created based on custom parameters (such as pH and salinity). This allows significant flexibility if a user does not have direct access to their water source or wants to test a hypothetical set of variables. The results, once ready, can provide valuable information about the presence of chemical contaminants – and because the testing process is fully automated, it's safer and faster than traditional testing, where human technicians would be handling the materials directly. The AT also created the AM1 with biosensor testing in mind.
In addition to the critical importance of teamwork, the iGem competition emphasizes the value of  broad communication and collaboration. AT took this to heart, meeting with bioengineers, workers at Boston's own Deer Island Water Treatment Plant, members of the 2018 BU iGEM team, and the 2022 MIT iGEM team, at various points throughout their process. Insights from researchers and water treatment workers helped them to pinpoint challenges in current practice which their product could most usefully address; studying past iGEM projects gave them a sense of the level of documentation and communication they could create to make their ideas reproducible and allow others to build on them; and their meetings with the MIT team gave both groups the opportunity to brainstorm and exchange feedback with similarly motivated peers; all of which helped to transform and greatly improve their final product. The BU team also engaged in a number of outreach events with K-12 students, giving back to their community; possibly even to members of future iGEM teams.
Ultimately, the Aquamatic team's biggest contribution to BU's iGEM legacy may be their system's modular design, which sets them apart from past projects focused on biosensors, aquatic environments, and/or water testing. They documented every step of the build process, which they completed at BU's own EPIC facility, and have made their code publicly available, very much in the tradition of their PI's dedication to the democratization of synbio research.
In October, the team traveled to Paris to attend the competition's culminating event, the iGEM Jamboree; sharing their work not only with judges and experts, but with members of 355 other student teams from around the globe. The AM1 garnered them a gold medal in recognition of their excellence in fulfilling (and in some cases surpassing) the competition criteria, as well as a nomination for the Best Project in the year's most competitive track, Environment.
On the heels of that triumph, STEM Pathways and its Program Coordinator, Hailey Lenn Gordon, are gearing up for iGEM 2023 – the competition's 20th year. Current BU undergrads who are interested in following in Aquamatic Technologies' footsteps can apply to join the 2023 team using this form. They'll be contributing to what has become an exciting BU tradition, in the vital spirit of convergent engineering research.
And what of the AM1? According to Gordon, it is destined for laboratory use right here in BU labs as a simulation device to assist with testing novel biosensors; continuing that iGEM tradition of collaboration and "paying it forward" between researchers, present and future.