Newly Named Allen Distinguished Investigators Aim to Recreate Lungs
The Paul G. Allen Family Foundation has awarded funding to a trio of BU faculty for a bold, early-stage project aimed at lab-grown lungs that mimic the real organ in all its fractal complexity. The proposal of Associate Professor Wilson Wong (BME), Professor Christopher Chen (BME, MSE), and School of Medicine Professor Darrell Kotton has earned each the moniker of Allen Distinguished Investigator, in the Mammalian Synthetic Development cohort.
Established by the late Microsoft co-founder Paul G. Allen, the Allen Distinguished Investigators program, a Paul G. Allen Frontiers Group advised program of the Paul G. Allen Family Foundation, awards grants of between $1 million and $1.5 million over three years to support nontraditional, ambitious research in biology and medicine.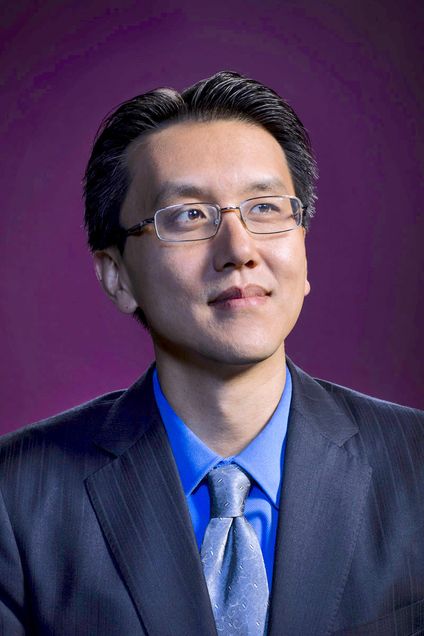 "It's risky because we have to build a lot of things from scratch," says Wong. "But that's what we do in synthetic biology."
Wong is a pioneer in programming cellular circuits. Chen is the founding director of the Biological Design Center and key player in the engineering of cellular microenvironments to learn how cells build tissues. Kotton is director of the Center for Regenerative Medicine.
The team's focus is on the human lung, with the long-term goal of regenerating tissue to treat pulmonary diseases such as asthma and lung cancer. The potential exists to replace diseased and dysfunctional tissue with fresh tissue grown using human cells and bioactive materials. But standing in the way of such treatment is our shrouded understanding of how the lung naturally develops its intricate network of ever-smaller tubes.
"The lung's branching fractal structure is very energetically efficient for delivering oxygen," says Wong. "The question is, how do the cells decide to form tubes and then keep branching into tinier tubes?"
Applying different theories to that question, and inspired by a suggestion of postdoctoral fellow Ian Kinstlinger, the BU team will attempt to engineer cells that automatically generate those fractal patterns. "This is the famous physicist Richard Feyman's philosophy—we can't understand what we cannot build," says Wong. "Even if we fail, the project will add to our understanding of the lung."
And if the team succeeds, the fruits of their research will be a boon to regenerative medicine and to people suffering from pulmonary diseases.