Zhang Receives Award from the Institution of Engineering and Technology
By Liz Sheeley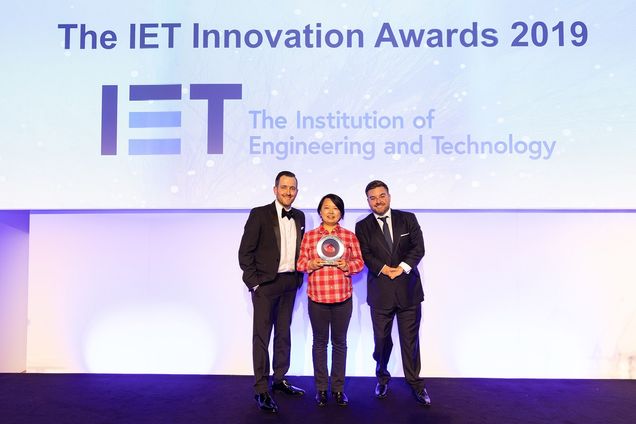 Professor Xin Zhang (ME, ECE, BME, MSE) has received a 2019 Innovation Award from the Institution of Engineering and Technology (IET) for Emerging Technology Design.
"It is an honor to receive international recognition from the IET and I am immensely proud of my team at Boston University."
The IET Innovation Awards recognize the most pioneering engineering and technology innovations across sectors such as energy and sustainability, transport, and healthcare.
Chosen from over 360 entries, Zhang's award recognized her recent work in developing a new metamaterial that can improve magnetic resonance imaging (MRI) quality and decrease scan time.
Zhang and collaborators, Professor of Radiology Stephan Anderson (MED) and Research Assistant Professor of Radiology Xiaoguang Zhao (MED), say that their magnetic metamaterial could be used as an additive technology to increase the imaging power of conventional clinical MRI machines, increasing the number of patients seen by clinics and potentially decreasing associated costs. They even envision the metamaterial being used with ultra–low field MRI, which uses magnetic fields that are thousands of times lower than the standard machines currently in use. This would open the door for MRI technology to become widely available around the world.
The judges for the Innovation Awards are a mix of industry and academic professionals, with entries also coming from a range of backgrounds, including start-ups, national research laboratories and academia.
Headquartered in the United Kingdom, the IET is one of the world's largest engineering institutions with 169,000 members in over 150 countries. It is "working to engineer a better world by inspiring, informing and influencing our members, engineers and technicians, and all those who are touched by, or touch, the work of engineers."