LEAP Students Win Imagineering Competition with Renewable Energy Idea
By Liz Sheeley
Ways to harvest renewable energy like solar and wind power have been highly developed over the past couple of decades, but the caveat of weather unpredictability has always been difficult to manage. The 2018 student winners of the Imagineering Competition hope to use wind produced by high-speed traffic to remove the uncertainty of weather in capturing wind power.
The Imagineering Competition invites undergraduates to submit extracurricular projects that showcase their creativity and entrepreneurial capabilities for a chance to win cash prizes and develop their project further. The winning project this year is a vertical-axis wind turbine that would sit between opposing streams of traffic on the highway. Vertical-axis wind turbines are used in cities where space is limited, but they are still typically bulky and large so as to capture as much wind as possible. The wind turbine proposed for highway use is compact and could potentially be built into highway medians.
In addition to the opposing air flows creating wind, heat from the dark tarmac will help the air rise and give an extra boost to power generation.
Team captain Brendon Bourgea says the idea to use the wind generated by traffic came to him when he was studying in the Photonics Center and looking down onto the rushing traffic on the highway below. "I had experience building a vertical wind turbine at my lake house in Vermont," says Bourgea. "And when I saw how much highway traffic there was during the day, I knew that integrating a turbine into the middle of the highway could open up a new and predictable renewable energy source."
Team members Bourgea, Jon Hale and David van Daalen Wetters presented their initial modeling at the Imagineering Competition on April 20. The students used computational modeling to show how opposing air flows would create strong, circular wind flow, or vortices, when captured into a small space like the wind turbine. They also presented their 3D-printed model of the proposed turbine.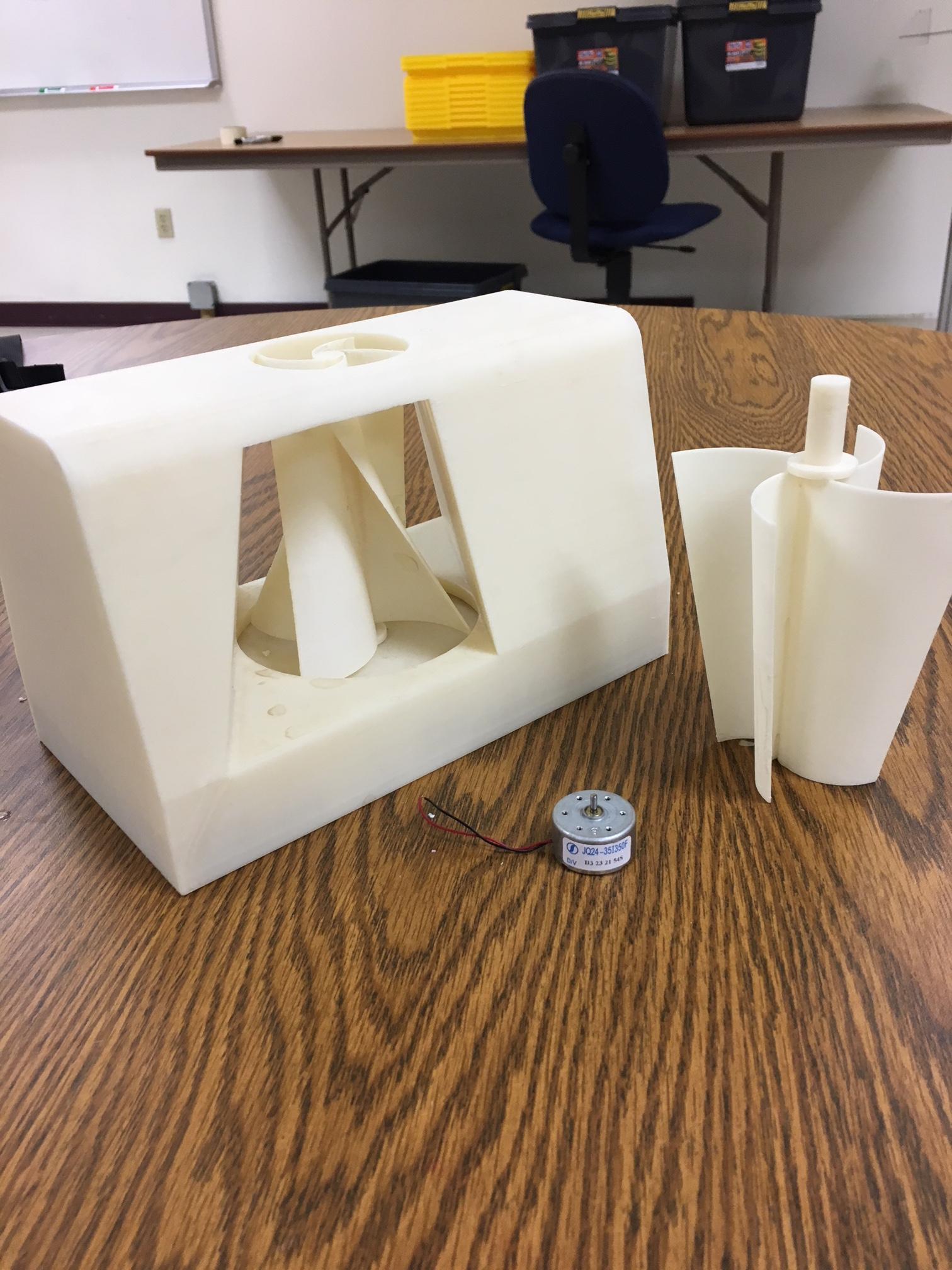 All of the students on the team are studying mechanical engineering in the Late Accelerated Entry Program (LEAP) in the mechanical engineering department, the College's unique master's degree program for students without an engineering bachelor's degree. Bourgea studied business for his undergraduate degree, Hale, finance and politics, and van Daalen Wetters, chemistry.
"One of the most exciting aspects of winning the competition was the assistance the College would offer us with patent filing and intellectual property," says Bourgea.
Along with those prizes, the team also walks away with a $3,000 grant for product development, an invitation to serve on the competition committee the following year and marketing analysis consultation.
The second place team presented an automated T-maze, which is a research instrument used in mouse studies. Making the T-maze automated could help scientists collect large data sets with significantly less time and labor. Their prize is $1,500 along with assistance in patent submission and marketing analysis consultation.
The committee then awarded four Best in Class prizes of $500 each. Justin Fiaschetti (ME) took home the first-year student prize for his design of a collapsible longboard.
Steve Numata (EE) and Ilyas Nazarof (ME) won co-Best in Class for sophomores – Numata designed an infinity speaker with a 3D-mirror display and that could pulse lights; Nazarof designed a no-slosh water bottle for athletes and runners.
Lucas Watson (ME) was awarded the junior prize for his friendly robot design that would analyze and react to how the user was behaving.
Jacob Nazarian (ME) took home the senior prize for his bicycle-powered air pump that oxygenates the water fish are stored in during transport for use in low-resource settings.
The Imagineering Competition is supported by John Maccarone (ENG '66).