Undergraduates Receive Recognition for Synthetic Biology Projects at 2017 iGEM Jamboree
By Liz Sheeley
Two student teams from BU were recognized for their scientific achievements during the 2017 International Genetically Engineered Machine (iGEM) Giant Jamboree.
Last month, iGEM hosted more than 3,000 participants from 44 countries who showcased their work at the Hynes Convention Center in Boston. iGEM is a non-profit organization, and the Jamboree is their annual competition for students who want to explore synthetic biology research. The competition is a culmination of eight months of rigorous research where teams are judged on an oral presentation, a poster, their team Wiki and a question-and-answer session with the judges. The two teams, BostonU Wet Lab and BostonU Hardware, won a silver and a gold medal respectively and the Hardware team also took home the prize for Best Hardware Project.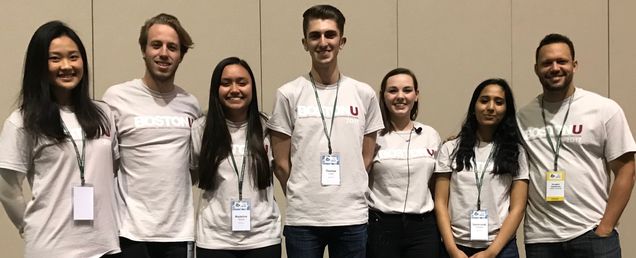 "Both teams really demonstrated how synthetic biology can be used to perform computational concepts not traditionally associated with biological systems," said Associate Professor Douglas Densmore (ECE, BME). "Their success is a testament to their hard work and the dedication and leadership of the graduate student mentors." Densmore was one of the professors who advised the teams, along with Assistant Professor Wilson Wong (BME) and Professor Daniel Segrè (Bioinformatics).
The Hardware team's project, Microfluidic Applications for Research in Synbio (MARS), aimed to increase accessibility and usability for devices called microfluidic chips for synthetic biologists. These chips allow researchers to run smaller-scale experiments—meaning supplies go further and results are produced more reliably —just some of a list of benefits. But manufacturing these chips requires expensive equipment and highly specialized knowledge. To help synthetic biologists overcome those barriers, the team worked on three projects: Microfluidics 101, the MARS Repository, and Fluid Functionality. Together the projects give an in-depth guide to microfluidics, including troubleshooting techniques.
"In our coursework we learn about engineering principles, but iGEM is a really good opportunity to learn what really goes into engineering and developing a system for people to actually use," said Dylan Samperi (BME, CE '19), a member of the hardware team.
Dinithi Samarasekera (BME '20) has been interested in synthetic biology since high school when she learned about golden rice, a new strain of rice that was developed to combat malnutrition and vitamin A deficiency. She joined iGEM as a freshman without having any undergraduate research experience, but "you're held to very high standards at iGEM and in our lab especially, so it was a great opportunity to hone my research skills and to understand what the field really entails. It was really rewarding to exercise what it's like to actually make something, then test and troubleshoot it."
Members of the hardware team included Samperi, Samarasekera, and Sarah Nemsick (BME '20). They were mentored by ECE Graduate Student, Josh Lippai.
The wet lab team's project worked to build a biological circuit that would effectively be able to determine a cell's state, and in this case, if that state indicates the presence of cancer by measuring the levels of certain genetic materials within the cell. When a cell becomes cancerous, the expression profile of certain strands of genetic material will change, and researchers can then detect those changes. But different cancers produce different expression paradigms and researchers typically need to measure thousands of markers to categorize a cell. The new circuit would be able to, through a series of biological switches, streamline that process and operate in a cell-free environment. The future long-term potential for this would be a simple blood test to diagnose cancer.
"Participating in iGEM really taught me how to problem solve because we had to figure out what went wrong and how to control the experiment, and what the next step would be," said Abigail Sasdelli (BME '18). "It's a lot more challenging and thought provoking than my previous experience because I was able to learn how to do research instead of just be told what to do."
Members of the wet lab team include Sasdelli, Thomas Costa (BME '18), Shuyi Xu (BME '19), Stephen Tucker (BME '20), Madeline Simota (Biology '20), and Saimrunali Dadigagla (BME '20). This team was mentored by Bioinformatics Graduate Student Alan Pacheco and BME Graduate Student Matthew Brenner.
Both teams are a research component of the NSF's Living Computing Project and its outreach program, STEM Pathways.