Cheng is Inaugural Moustakas Professor in Photonics and Optoelectronics
by Liz Sheeley
Upon Professor Ji-Xin Cheng's (ECE, BME) appointment to the College of Engineering last summer, he was named the inaugural holder of the endowed Theodore Moustakas Professorship in Photonics and Optoelectronics. Earlier this month, Dean Kenneth R. Lutchen gathered Cheng, his chair's namesake, Professor Emeritus and Distinguished Professor of Photonics and Optoelectronics Theodore Moustakas (MSE, ECE), and other colleagues to celebrate the latter's legacy and the former's appointment.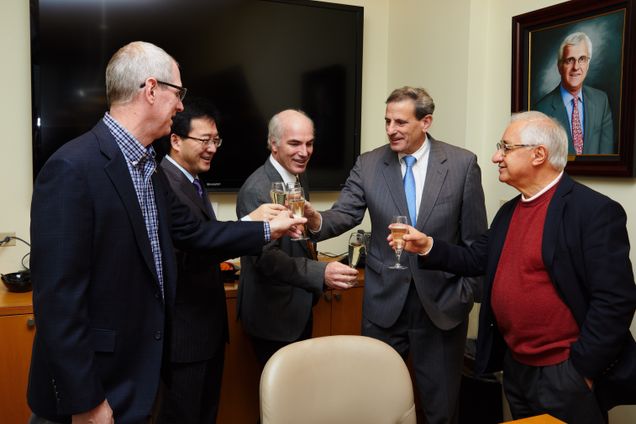 Moustakas joined BU in 1987 and developed an innovative method that made the large-scale manufacturing of blue LEDs possible. The technology is now widely used in myriad electronic devices. He has received multiple commendations during his tenure, including being named a Fellow of the American Physical Society, and of the Institute of Electrical and Electronic Engineers. He is a Charter Fellow of the National Academy of Inventors. His work in semiconductors and electronic materials has generated 36 U.S. patents. His patent on a method to create blue light from an LED was cited as foundational by Shuji Nakamura, who shared the Nobel Prize for advancing Professor Moustakas' method to create the blue LED product.  Beyond his research contributions, Moustakas is also known for being an outstanding professor and was awarded the ECE Award for Excellence for Teaching in 1998.
"I am grateful and proud that the University has created the endowed chair in Photonics and Optoelectronics with my name," said Moustakas. "I am also very pleased to see that its first recipient is Professor Ji-Xin Cheng, who is a visionary researcher in the areas of imaging technologies and disease diagnostics and treatment. His contributions in these areas will further enhance the fields of life sciences and engineering at BU."
Cheng holds dual tenure in the departments of Electrical & Computer Engineering and Biomedical Engineering at Boston University as well as secondary appointments in Chemistry and Physics. He is also member of the Photonics Center. He is a pioneer in applying optics and photonics to the development of label-free spectroscopic imaging technologies. Applications are numerous and include precise disease diagnostics and treatment, particularly in prostate cancer. These technologies are able to discover new biological markers that indicate how far cancer has progressed more precisely than existing methods. "This is how photonics can create better medicine," said Cheng.
"Being recruited to BU as the inaugural holder of the Moustakas Chair Professorship is a great honor to me and a key step in my career," Cheng added. "I wish that I will be able to extend Professor Moustakas' legacy through inventing game-changing technologies and mentoring next-generation scientists. "
Cheng's list of accolades includes being appointed a Fellow of the American Institute of Medicine and Biological Engineering in 2014, winning a translational research award from the International Society for Optics and Photonics, also in 2014, and a Research Excellence Award from the Purdue University College of Engineering where he was most recently a professor. His innovations have led to 10 U.S. patents and over 200 peer-reviewed publications.
At Boston University, Cheng is building a highly interdisciplinary and collaborative biophotonics research program with applications in cancer metabolism, neuroscience and infectious diseases. As an example, his group is developing a drug-free treatment of superbugs, like MRSA, by using light to break down bacteria. For his first test of the technique, Cheng used blue LEDs.
"The College of Engineering is honored to have been able to establish a professorship named after Professor Moustakas, whose career has transformed the field," said Lutchen. "We are also extraordinarily fortunate that this professorship helped recruit someone with the prestigious reputation and inherent interdisciplinary impact as Professor Ji-Xin Cheng."