Klapperich Awarded Gates Foundation Grand Challenges Grant
By Liz Sheeley
Long-term HIV treatment, known as antiretroviral therapy, has dramatically changed the quality of life and longevity of infected and at-risk patients. But even on this treatment, patients must be constantly monitored by having their blood tested several times a year with nucleic acid amplification testing (NAAT). NAAT is sensitive and effective for early detection, but it is expensive and requires samples to be refrigerated, which can be a challenge in developing countries.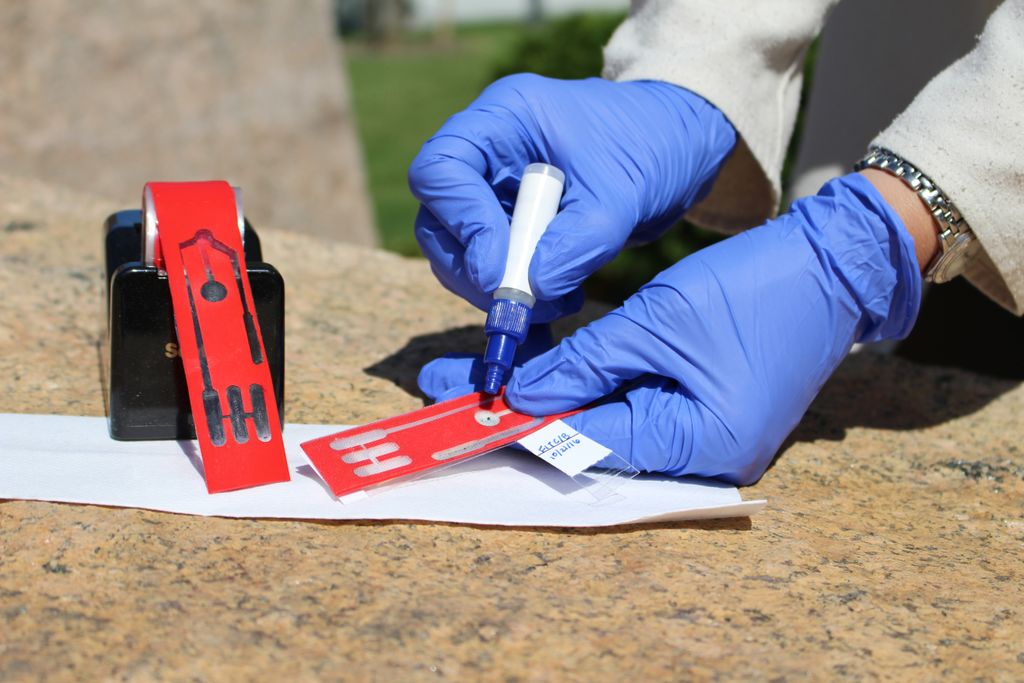 Professor Catherine Klapperich (BME, MSE) has devised a new, easy-to-use method called SNAPflex (System for Nucleic Acid Prep – Flexible) that prepares samples for NAAT without refrigeration and at much lower cost. The promise of the technology has been recognized by The Bill & Melinda Gates Foundation, which has awarded Klapperich, in collaboration with MakerHealth, located in Cambridge, MA, a $100,000 Grand Challenges Explorations grant to develop it.
Grand Challenges Explorations is a $100 million initiative that supports research to solve global health and development challenges. Since its launch in 2008, the initiative has funded over 1365 projects in more than 65 countries over a wide breadth of disciples, but all within the scope of four topics, including innovations for integrated diagnostic systems and health systems strengthening to ensure effective health supply chains. If successful, projects can receive follow-on funding for up to $1 million.
"This project takes everything we have learned in our lab about small scale and portable blood preparation and combines it with smart, usable design for manufacturing and scale up," said Klapperich. "We are very excited to get started."
The simple sample preparation and storage system will allow infected and high-risk patients in low resource areas to be consistently monitored. The potential to directly reduce transmission rates and new infections considerably increases when doctors in low resource areas can combine the effective use of antiretroviral therapy and NAAT diagnostics. The new system also creates more opportunities for faster diagnoses to allow those who are newly infected to limit their exposure to others and implement safe protocols to stop the virus from spreading.
Rather than test for antibodies, NAAT looks for the presence of the virus' genetic material, a method that provides more sensitive and quantitative monitoring, but one that also requires samples to be kept cold during transit to a laboratory in addition to expensive sample preparation and testing equipment. Klapperich's storage solution is a flexible, layered plastic and paper system that looks like a roll of tape. Along the roll are a series of fluidic systems, each able to store and extract the genetic material used in NAAT. The storage card could be torn off one-by-one from the roll and then a patient would provide a small amount of blood from a finger prick onto the card. Klapperich developed two innovative liquid solutions that would extract, clean and dry the genetic material from the patient's blood.
Not only is the cold-storage element of the previous process cut out, but this new device also eliminates the need to use needles, syringes and other medical equipment to draw and store blood samples. Laboratory costs are also significantly lowered since the cards prepare the sample for processing. And because it is easy to use, medical professionals should be able to use it quickly and with little training. Klapperich's card system can be manufactured using either laser cutting or stamping, both low-cost processes, because of the simple and flexible design. All of these factors allow the new device to be implemented quickly and economically and get patients faster access to test results and potential treatments.