Harold Park Promoted to Full Professor
By Rich Barlow – BU Today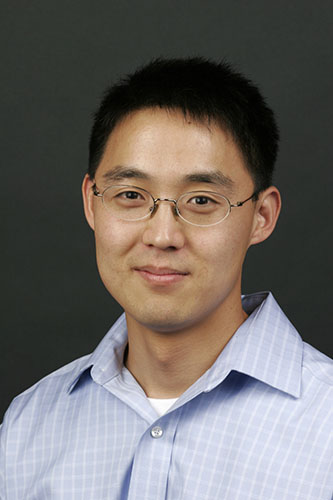 In 1999, Harold Park was stumped for a career. The recent Northwestern University graduate found his friends' chosen paths—banking, consulting, finance—un-thrilling. Punting, he chose to remain at Northwestern to pursue graduate work in mechanical engineering, his undergraduate major. Midway through, he found his passion when he did a project that used a computer to model structures from A to A (atoms to airplanes). He later earned a PhD from Northwestern.
Today, his field of computational mechanics has revolutionized any number of technologies, he says: "Car crashes are simulated and analyzed on computers, nuclear weapons are tested virtually on computers, the reliability of your cell phone is tested virtually on computers." As for Park, he develops computation techniques that could help design artificial muscles and other technology.
His prowess in the lab has helped earn him a slot among the 16 faculty who have just been promoted to full professor (professor of mechanical engineering and affiliated professor of materials science & engineering at the College of Engineering, in Park's case) on the BU Charles River Campus. Park says that sharing his passion with students typically means teaching via problem-solving.
"I look for the slow head nod, like 'Yes! This makes sense!' That's when I know what I'm teaching is sinking in," says Park, who has written more than 120 journal articles and coauthored the book Nano Mechanics and Materials: Theory, Multiscale Methods and Applications. He received the John Argyris Award for Young Scientists from the International Association for Computational Mechanics and a CAREER Award from the National Science Foundation (NSF) and is a fellow of the American Society of Mechanical Engineers.
Read more about faculty promotions at BU Today -Charles River Campus Promotions: 16 Made Full Professors.