Annual Test of BU Emergency Alert System Set for Today
Provides crucial warnings when there's a crisis or a school closing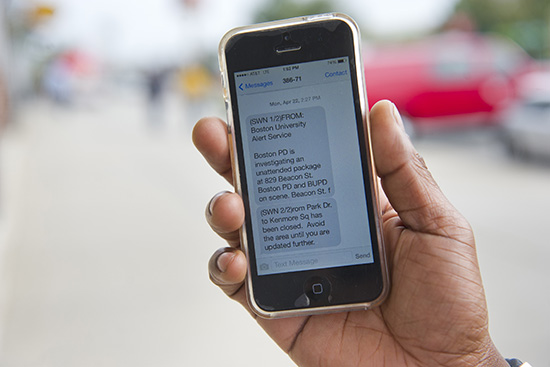 If you have a BU email address, expect to hear from the BU Emergency Alert System today, Thursday, September 23. The BU Alert, which sends information during emergencies to the BU community via email, cell phone, text message, or landline, will be conducting its annual federally mandated test of the system at approximately 3:20 pm. The aim of the test is to ensure that the system is working properly. The test message will also be posted on the BU homepage, on BU Today, and on the BU Emergency Management website, as well as on Twitter at @BUPolice and on each of the more than 120 stations on the BU TV cable system.
The Emergency Alert System is designed to provide rapid and reliable mass communication to students, staff, and faculty in the event of a crisis, such as a crime incident, or a time-sensitive situation, such as a weather-related closing.
Students wishing to update their information or to add a cell phone number can do so by going to the Student Link.
Faculty and staff who want to add a landline, a cell phone number, or a pager can do so by logging on to BU Works, clicking first on the Employee Self-Service tab, then the personal information tab, and then proceeding to the BU Alert Information tab.
"The BU Alert system enables us to notify the BU community with important safety information in a timely manner," says Rene Fielding, director of Emergency Management. "We encourage all members of the BU community to keep their contact information up-to-date and to pay attention to all messages coming from BU Alert."
BU instituted the alert system in 2008 to expedite announcements pertaining to crimes, bad weather, and other instances of possible disruptions to University operations. When a message is received, people are urged to read the message, to alert other people, and to carefully follow the instructions given with the message.
"During an emergency situation, seconds count," Fielding says. "Our top priority is to ensure that we can send out a message campus-wide with as much information as we have at that time, to ensure our community is safe and informed of the evolving emergency situation on campus."
This article originally appeared in BU Today on 9/23/21.