Revised Economic Thinking for a New World: New Editions of the "In Context" Textbooks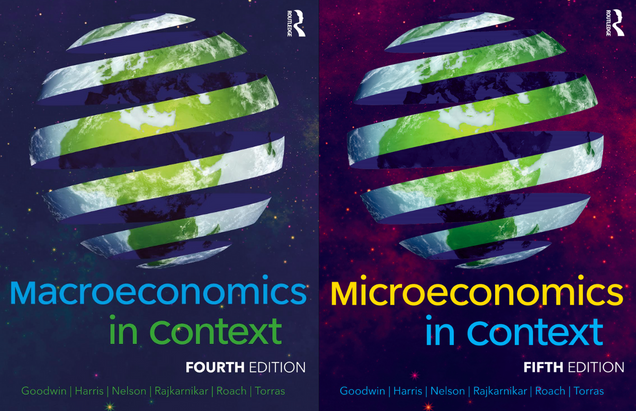 By Pratistha Joshi Rajkarnikar
As the world has undergone seismic shifts over the last few years due to the COVID-19 pandemic, rising social and economic inequality and the escalating climate crisis, new approaches to economics are needed to reflect the complexities of this rapidly evolving world. 
The latest editions of Microeconomics in Context and Macroeconomics in Context textbooks provide fresh perspectives on recent challenges and current policy issues. 
These textbooks take an inclusive and interdisciplinary approach by presenting economic analysis within its social and environmental contexts. Economic concepts and theories are introduced with ample real-world examples and a variety of viewpoints. The texts cover the standard topics included in most economics texts but treat them from a broader, more holistic perspective by including discussion of history, institutions, gender, ethics, inequality and the environment. This approach encourages critical thinking and makes the learning experience more relevant and engaging for students. Defining features of the textbooks include:
Framing the purpose of economics as improving human well-being, rather than focusing solely on economic growth.

Inclusion of non-market activities to account for unpaid work and the benefits of public goods.

Adding 'resource management' as a key economic activity to highlight the importance of physical and natural capital in building a sustainable economy.

In-depth analysis on topics such as climate change, inequality, market power, consumer behavior, globalization, financial instability and ecological sustainability.

Focus on real-world applications and policy analysis with the most up-to-date research.
The latest editions provide expanded treatment of issues related to inequality and environmental sustainability. The social and economic impacts of the COVID-19 pandemic are also discussed, as is an increased emphasis on global issues for a comprehensive understanding of the economic realities of the 21st century. 
Impacts of COVID-19
Over the last three years, the COVID-19 pandemic has significantly affected various aspects of everyday life. The business closures and stay-at-home measures adopted to contain the virus in early 2020 pushed the world economy into a short but deep recession and caused a sharp rise in unemployment. Globally, extreme poverty increased, access to education and health care declined and inequality rose as a result. The pandemic underscored the importance of recognizing non-market work and valuing care labor, which were critical for keeping society functioning during the pandemic.
Even as the global economy experienced a strong recovery in 2021, new problems emerged including rising inflation, supply chain disruptions, labor shortages and increasing debt levels for many poor countries that borrowed heavily to cope with the pandemic. Looking forward, it is essential to understand these various impacts and to design innovative solutions to building healthier economies. The impacts of the pandemic, as well as possible approaches to create a more resilient system, are discussed extensively in various chapters of both the Microeconomics and Macroeconomics texts.
Rising Inequality
The Macroeconomics in Context text now includes a separate chapter on inequality, discussing not just economic inequality, but also inequality based on demographic factors such as race, gender and age, and issues related to labor market discrimination. The inequality chapters in both Microeconomics and Macroeconomics texts provide an expanded treatment of international inequality, with new material on global income and wealth inequality.
Figure 1: Global Income Inequality, Ratio of Top 10% Average Income to Bottom 50% Average Income, 1970-2020
Even though global inequality has declined in recent decades (Figure 1), most of this has been driven by the rise of middle-income households in countries like China and India that have experienced high growth rates. At the same time, inequality within these countries has increased. Despite increased concern about rising inequality, efforts to address it have been inadequate and the problem has worsened in most parts of the world due to declining union membership, austerity policies that include cuts in social spending and the increasing market power of large corporations. These issues are covered extensively in the updated texts, providing a rich discussion on policy solutions to address inequality. 
The Climate Crisis
The issue of climate change has gained prominence in recent decades as global greenhouse gas emissions continue to rise (Figure 2) and severe weather events become more common around the world. The new editions incorporate recent research and updates on key issues related to environmental degradation and climate change. 
Figure 2: Growth in Atmospheric Carbon Dioxide, 1815-2021
Key topics discussed in the texts include rising energy costs, transitioning away from fossil fuels and expanded reliance on renewable energy, along with updated data on climate change projections and national commitments to reduce emissions. Problems of population growth, resource depletion and limits to economic growth are included in the Macroeconomics text, along with possible alternatives to indefinite economic growth, including "green Keynesianism", limits to growth and degrowth. 
The Global Economy
Discussion on the global economy, with new data on flows of trade and finance as well as controversies over increased globalization, have been added to both the Microeconomics and Macroeconomics texts. The Macroeconomics text includes new discussion of looming debt crises in developing countries, supply chain problems, capital flight from developing countries, international financial inequities and the international role of China in development finance. The discussion of trade issues has also been expanded in the Microeconomics text, along with new sections on the international tax systems, and the implications of Brexit. 
Both the Microeconomics and Macroeconomics texts put an emphasis on data and policy relevance. "Chapter 0" in both texts provides extensive data on a wide range of economic issues. Real-world examples of economic concepts have been added throughout the texts to encourage students to apply economic analysis to real-world issues.
The texts come with a full set of support materials, including an 'Instructor Resource Manual' that provides chapter summaries, as well as answers to all discussion questions, review questions and exercises, along with additional links to recommended resources. Student support material to review key concepts and a test bank with over 2,000 questions are also available for both texts. 
Explore Macroeconomics in Context
Explore Microeconomics in Context
*
Never miss an update: Sign up to receive the Economics in Context Initiative newsletter.