Programs
Our mission is to help you enhance your character, quality, and perspective during your time at Boston University. We oversee student life, including the Community Service Center, Disability and Access Services, the Howard Thurman Center for Common Ground, Judicial Affairs, Outreach and Engagement, Orientation, Parent and Family Programs, Residence Life, and Student Activities.
Our office also oversees several programs, including Belonging Cafes, Student Networks, and more! We also provide several support services, such as Terrier Meal Share. We also provide civic services, such as voter registration and information and notary services.
Upcoming Programs
***Stay tuned & have a great summer!***
Previous Programming
Juneteenth BBQ
The Juneteenth BBQ for students was held on Monday, June 19, from noon to 4pm at the BU Beach. Rain location: GSU Link.

Pride Festival
Kick off Pride month with a festival! Join us on the BU Beach on June 1 for free food and drinks. We'll have lawn games, good music, and free t-shirts for the first 300 people to arrive!
Use the QR code in the photo to register or go here: PRIDE Festival Event Registration

LGBTQIA+ in the Workplace Event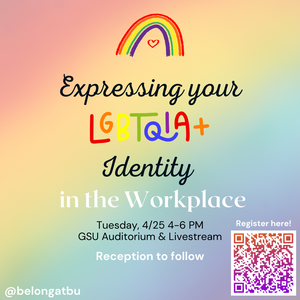 Whether you're preparing for your first job, switching organizations, or transitioning from remote to in-person work, navigating how or whether to express your LGBTQIA+ identity in the workplace can be challenging. To determine if an organization feels safe, there are many factors to assess and the process can feel uncertain and overwhelming. Join our panel of LGBTQIA+ alums as they share their experiences navigating these challenges, and answer your questions about being "out at work." A networking reception will follow the panel.
MLK Day 2022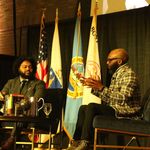 To watch the 2022 Annual Celebration of the Lives and Legacies of Martin Luther King, Jr. and Coretta Scott King, click here. 
To watch the 2022 Epsilon Gamma Lambda Chapter Alpha Phi Alpha Fraternity, Inc. in partnership with the Dean of Students and the Howard Thurman Center for Common Ground for Honoring The Life of The Rev. Dr. Martin Luther King Jr., click here.
Black History Month 2022
Reflect, empower yourself, indulge and confront your curiosities this month. Throughout February, this community hosts events with the notion of celebrating and honoring Black histories, issues, people, and their struggles. We have gathered information about all the events happening on campus and you can view them here. 
Senior Speaker Selection 
Each spring semester, the Dean's office conducts the Senior Speaker Selection for the Commencement ceremony. Look for updates on this process in February 2023 for the Class of 2023.
Senior Breakfast 
The Dean of Students office hosts Senior Breakfast each year for the graduating class. Look for updates on the Class of 2023's Senior Breakfast in April 2023.
Class of 2026 Matriculation 
The Class of 2026 participated in their Matriculation Ceremony on Sunday, September 4, 2022. Learn more here.
International Transgender Day of Remembrance Memorial and Flag Installation
In honor of Trans Day of Remembrance, the BU Arts Initiative, BU Diversity & Inclusion, Dean of Students, LGBTQIA+ Center for Faculty & Staff, and LGBTQIA+ Faculty & Staff Community Network set up a memorial on Alpert Mall (BU Beach) in commemoration of those who have died in the past year due to anti-transgender violence.