BULB: Make Interactive Learning Materials
In 2015, Wayne LaMorte, a Professor of Epidemiology and Assistant Dean of Education at Boston University School of Public Health, had a digital education idea: to build a WordPress plug-in that would enable BU faculty to create interactive online learning modules. BU's Web Development Team, Domenic Screnci, Ron Yeany, Roland Jaeckel, and Amod Lele, were all very receptive and agreed to pitch the idea to Digital Learning & Innovation's (DL&I) Digital Education Incubator. Proudly, the idea turned into an Incubator supported pilot project.
"Then the real work began", says LaMorte, who served as the project's Principle Investigator.
"Our [Incubator Project] team consisted of developers, educational media staff, a program manager from DL&I, and faculty, and it was gratifying to see how this diverse team worked so well together to bring this project to a successful conclusion," he adds.
DL&I's Digital Education Incubator and Educational Technology teams are pleased to announce the release of a new WordPress plugin BU Learning Blocks (BULB) and its availability to BU faculty and staff.
"BULB has been years in the making and we're delighted to make it finally available to the BU community," says Lele, educational technologist and BULB project team member. "It's a great way for professors to share their vision of their field with their students and others around the world, and let the students know right away whether they've understood the concepts." 
When asked about the process—idea, pitch, Incubator support, and launch, LaMorte says, if you have a digital education idea, present it to DL&I's Incubator.
"I would encourage faculty and staff who have an innovative idea to contact DL&I to initiate a discussion," he adds. "I had a general idea, but I really didn't know how to implement it. Our initial discussions led to a concrete proposal and the creation of team that had the expertise to help shape the idea and bring it to life."
The following is an overview of the BU Learning Blocks WordPress plugin, the call for BU community to use BULB to create open educational resources, and a list of training options and opportunities.
What is BU Learning Blocks (BULB)?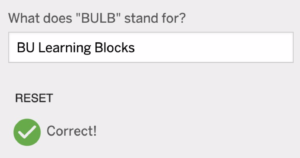 When installed, you can create lessons either as stand-alone pages or as an ordered sequence of multiple lesson pages. You can order and arrange BULB question types within pages. You can insert questions directly into multimedia lessons alongside any combination of text, images, and video to test student's comprehension synchronously while working their way through your lesson.
BULB in its current iteration does not collect user data on who and how many people answer questions, so it is not meant for assessing or grading students' responses. Instead, BULB prioritizes using question blocks as a means of achieving learning goals and reinforcing self-study. Questions can be reset until students get the right answer. And students can always revisit pages to start fresh. Question types include: Calculated Numeric (for questions with a numeric answer), Multiple Answer, Multiple Choice, True/False, and Fill in the Blank.
What can BULB be used for?
BULB is great for providing open lessons online for your classes. It helps encourage active learning through student engagement with self-assessment questions. In the short-term, it can serve as a collection of lessons or exercises used to reinforce course content. It can serve as a single space that all students, whether in-person or online, can access and learn. Over time, faculty can create entire digital workbooks that they can have students use (at no cost) over multiple semesters. In the long term, we hope some faculty will choose to use BULB to create no cost alternatives to pricey textbooks in order to help build a more accessible and inclusive classroom.
We are actively seeking users from the BU community who would like to try using BULB to create open educational resources for BU students and beyond.
Training and Support
Please refer to the 

BULB Documentation

 (a BULB site about BULB sites) or the TechWeb Documentation 

here

. Please note the technical requirements on the TechWeb Documentation. 

View 

introductory videos

 on some of the features BULB has to offer (also available on documentation site).
BULB is supported by Educational Technology, Digital Learning & Innovation. If you are interested in an information session, an EdTech consultation, or training, contact digital@bu.edu.
Call for Developers: BULB is an open-source plugin and we encourage community contributions. If you or a developer you know would like to work on BULB, please check out our GitHub site.
---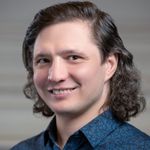 About the expert: Dave is an Educational Technologist. In this role, he advises and assists faculty on a variety of platforms for classroom use, with a focus on Turnitin Feedback Studio, BU Learning Blocks (BULB), Open Educational Resources, Google Suite for Education, MediaKron, and more.