OER for Science ACT Grant
"We are all life-long learners. Give yourself permission to be curious." -- TJ McKenna, Wheelock College of Education & Human Development

Recent developments in STEM education call for students to be the ones driving their own learning, where one of the main shifts is for students to "figure out" meaningful phenomena, rather than "learn about" science ideas from worksheets and textbooks. 
To address this shift, TJ McKenna, Lecturer in the Science Education Department of Wheelock College of Education & Human Development, developed a dynamic and interactive website on Phenomena for Next Generation Science Standards (NGSS) to provide open educational resources for students, teachers, and the general public to engage in scientific inquiry.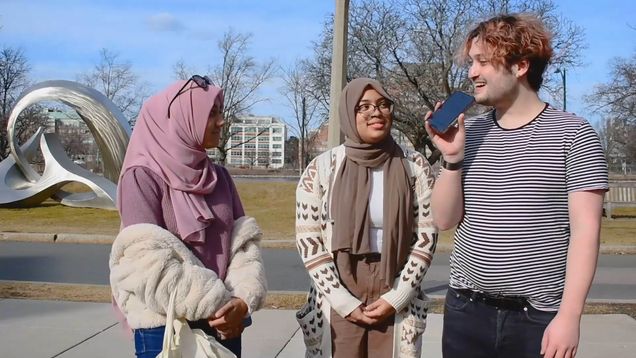 According to McKenna, "Curiosity has shown to be a great indicator of students' science identity and if K-12 students see BU students that look like them sharing things that they are still curious about, they may better identify as a scientist and pursue courses in STEM–and maybe even come to BU!" 
Building upon the success of his site and wanting to push students further in building their STEM identities, McKenna collaborated with Wheelock students to create a two-video series on "What Are You Curious About?", funded by a Shipley Center ACT grant.
For this interdisciplinary collaboration, students interested in computer science and educational design led the design, students from STEM education created the content, and students in education, who took courses in TV and Film, led the content creation. In the videos, BU students took to the streets and encouraged passersby to engage in their own curiosities of the world around them. 
"I think teaching science from this perspective of natural curiosity is a very important lens to view the study of science through. This fun project allowed us to help people engage with their most random thoughts about the universe, and I hope that maybe we inspired some people to explore those questions more deeply." – Evan Denenberg, student team leader.
According to McKenna, "This project has provided transformational impact on my courses in ED 111 Educational Technology, and ED 130 and 131 Exploring Professions: STEM Learning, Action, and Impact in providing an example of the Triple E Framework for technology integration, as well as provide a fantastic example of how the new pathways at the Wheelock College of Education can all work together to create change."
After the video project series was published, the website received 33,000 views, a majority of which were in the U.S. but also across the globe. Additionally, an interactive form was created in conjunction with the videos that asked viewers to submit what they were curious about, which resulted in 126 submissions that mostly aligned with the four NGSS focus areas: physical sciences; life sciences; earth and space sciences; and engineering, technology and applications of science.
"In Professor McKenna's class, we learned about various technological tools that can be used in educational settings, and how they can enrich learning," said Arabella Notar-Francesco, production assistant for the project. "Many educators are apprehensive about using technology, fearing it may distract students from the lesson. However, with appropriate tools and precautions, technology can genuinely benefit learning."
* * * * *
Feature image above: Blake Ung, video production lead, interviews young woman in second video of series.