Shipley Project Spotlight: RANDOM ACTOR
The idea behind RANDOM ACTOR was to try to find a new kind of design language for the theater that would allow the audience to perceive the interior psychological movement of the character, visually.

-Clay Hopper, Senior Lecturer, BU School of Theatre
Five years ago, Hopper was introduced to James Grady, creative director of BU Spark! and assistant professor of art and graphic design, and the two embarked upon a collaboration that sought to bring together their interests of interactive media and computer-generated art into the world of theatre.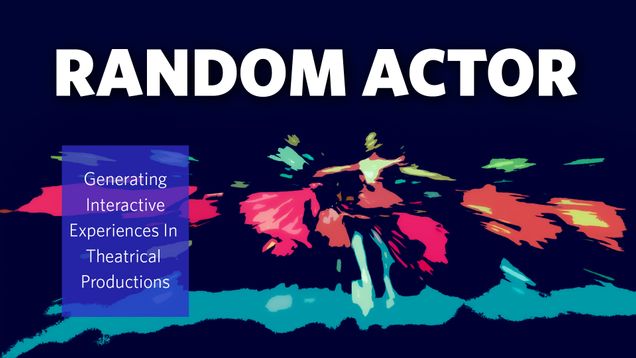 While digital backdrops and rear projection screens are commonplace in theatrical productions, Hopper wanted to take this technology one step further to combine conventional projection mapping technology with interactive, generative-computer graphics and computational vision to create a completely fluid, engaging and projected environment with performers.
The result of this, RANDOM ACTOR, is a new software program that allows for real-time design with an intuitive user interface eliminating the need for designers to write code.
"The goal has always been, how do we build a tool that doesn't need people to recode it—that we can support so theater students can use it, designers can use it, and developers can build on top of it," Grady said in an interview with BU Today.
The project team's early work found that when attempting to stage a play within an immersive, fully projected-media environment, the normal system of rehearsal was insufficient for the aesthetic application they were pursuing. Because of the inordinate amount of time spent adjusting/writing code, the team developed a no-code software application that could change the values of any given generative algorithm in real time as they worked in rehearsal with performers and other designers.
To move this project toward completion, the project team partnered with the Shipley Center, whose financial support allowed them to enlist the help of a Visiting Interdisciplinary/Interactive Media Artist in Residence, Paolo Scoppola, in the Spring of 2022. Scoppola worked with students in The School of Visual Arts, The School of Theatre, and The Center for Computing and Data Sciences on a production of a play, EXIT THE KING by Eugène Ionesco, produced by the College of Fine Arts. This production was the pilot for – and featured the deployment of – RANDOM ACTOR.
"The continued evolution of the technology relies on the collaboration between fine art and computer science students. In that sense, it's a prime example of cross-college collaboration," according to Chris Dellarocas, associate provost for Digital Learning and Innovation.
Today, RANDOM ACTOR, is moving toward its finalized form, after receiving an ACT grant from the Shipley Center in 2023, which allowed the project team to acquire a faster graphics-processing computer to improve the real-time interplay of the graphics with performers.
In an interview with BU Today, Shipley Center Project Manager, Diane Carroll, said that one of the things that's exciting about RANDOM ACTOR is that it "will become a tool that can be used for other applications across the University." Currently, the team is moving toward commercializing RANDOM ACTOR for broader applications across fields and disciplines.
* * * *
In the News
Hopper, C., Carroll, D. (2023, March 28). Opening Night: Implementing Emerging Technologies with Emerging Artists. Presentation at NERCOMP Annual Conference. Providence, RI.
Read the May 4, 2022 BU Today story: Exit the King, and Enter Random Actor
March 2022 BU College of Fine Arts workshop with Paolo Scoppola: