POV: Make your courses more accessible with Blackboard Ally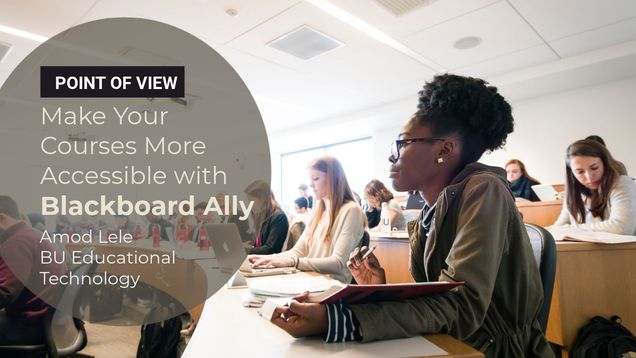 Improving diversity, equity, and inclusion is one of the highest priorities for the Boston University community — an area where educational technology makes arguably the greatest difference for equity and inclusion is disability access. If technology is used poorly, it can put up additional barriers for people with disabilities — but when technology is used well, it can remove barriers and enhance the teaching and learning experience. To that end, BU has now adopted Blackboard Ally.
Ally works within Blackboard to make course content, such as readings, more accessible to students with disabilities, especially visual and learning disabilities. The heart of Blackboard Ally is its alternative formats. Through the use of machine learning, Ally can turn a printed reading into an audio file, add headings for screen readers or colors for people with low vision, and even convert it into digital braille. 
Some content translates to alternative formats more easily than others. While Ally can attempt to use OCR to read an old scanned PDF, for example, the quality will be low. So, on your end as faculty, Ally provides a dashboard that assesses how accessible your content is, and provides recommendations for how to make it more accessible. Don't worry, only you will see that dashboard, not your students; it's there to give you suggestions on what would be helpful. 
Ally isn't a substitute for the accommodations provided to individual students by Disability and Access Services. Instead, it works on the principles of Universal Design for Learning: adjusting the learning environment so it can be used to the greatest extent by all, whether or not they have formally requested an accommodation. Perhaps the most familiar example of Universal Design is the OXO Good Grips kitchen tools: their thick rubber grips were designed as an accommodation for people with arthritis, but turned out to be handy for everyone.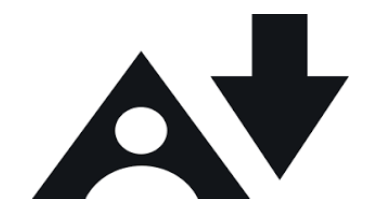 In any course where Ally is turned on, students can easily access alternative formats by clicking the Ally logo (a stylized A with an arrow pointing downward). Many students find these useful even when they don't have disabilities: for example, they can listen to an audio version of the reading while walking to class. "We have some people who really love audio formats", says Michael Morrison, Associate Director of Academic Service Centers at Syracuse University, which adopted Ally five years ago. "We saw 15 000 downloads of the alternative formats last September alone, from 3754 unique users –  so that's more than just the students with disabilities." 
Ally is currently opt-in while we all get familiar with it: that is, it's not turned on for your courses until you ask for it to be. We highly encourage faculty to turn it on for their Blackboard courses. To turn it on, email ithelp@bu.edu and — request that Ally be added to your Blackboard course site. In the body of the email, provide the name and/or course ID of the course that you'd like it added to. Once it's on, please let your students know it's there so they can take advantage of it.
Interested in learning more about Blackboard Ally, visit the TechWeb training page.