EdTech Watch List 2022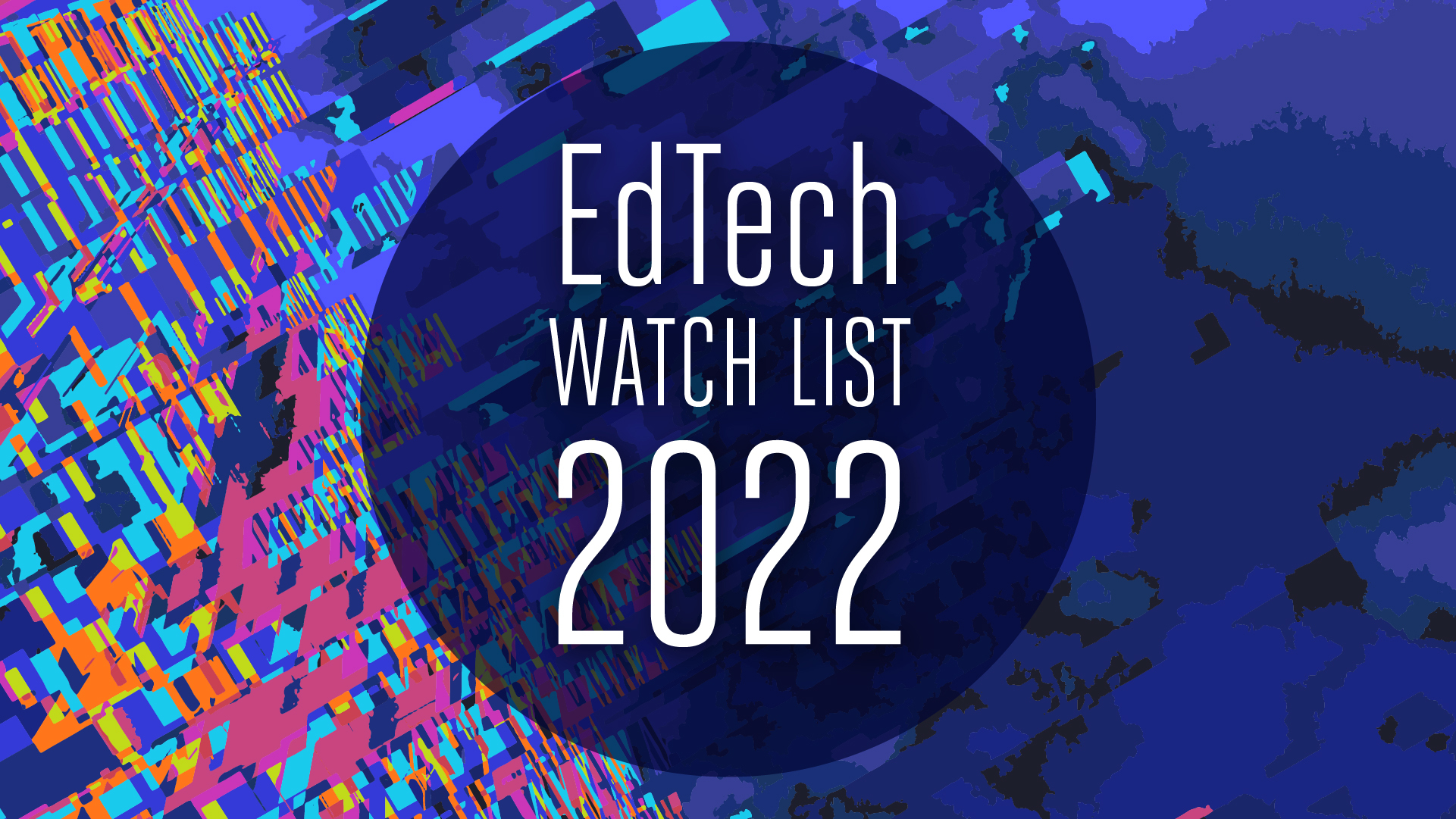 Digital transformation is on the minds of higher ed leadership and IT professionals broadly. What's next and what edtech trends should we be watching? Digital Learning & Innovation's Educational Technology team crafted a technology-rich list of trends to watch and navigate in 2022.
Blockchain and its Use in Higher Education
Ernie Perez, Director, Educational Technology
In 2021 we saw Bitcoin, Etherium, and many other cryptocurrencies emerge and grow in market size but how will these impact higher education. Arizona State University's trusted learner record is leveraging blockchain technology, the building block of Bitcoin, to track students' achievements. They have announced that in 2022 they will be releasing Pocket, a digital wallet for students as a comprehensive learner record. We need to continue to monitor their progress as this could be a very valuable addition to higher ed to give a lifelong learner record for students.
---
Artificial Intelligence Everywhere – Virtual Facilitators and Learning Environments
Chihsun Chiu, Educational Technologist
Today education has been used as a means to develop minds capable of expanding and leveraging the knowledge pool, while Artificial Intelligence (AI) provides tools for developing a more accurate and detailed picture of how the human mind works. Since 2019, the pandemic brought the "School-from-Home" scenario that one could have never imagined. Research shows that virtual human guides and facilitators have been successfully used in a variety of educational and therapeutic environments. This means in 2022 that we will continue to see an accelerated rate of digitization and virtualization and more computer-supported learning in education.
---
Web3
Harrison Lawrence, Manager, Platform Administration
Web3 is the term to describe an evolving iteration of the internet. It is based on a decentralized system that uses blockchain technology to return ownership of platforms and interactions to the end user. Instead of data being owned by corporations, Web3 envisions an internet where each individual end user has control of their own data. Still in a very nascent stage, it will be interesting how the technologies surrounding Web3 (and people's appetite to use them) evolve in the coming years.
---
Explainable Artificial Intelligence, or XAI
Maria Afzal, Educational Technologist
Artificial intelligence has taken over our normal lives in many ways. If you're using Google Docs, Gradescope or any number of other digital tools, AI is being baked in. Its responsibilities and use cases in education keep growing but how AI systems make predictions and decisions has not always been transparent or understandable.
Explainable Artificial Intelligence, or XAI, is similar to a normal AI application except that the processes and results are able to be explained so that they can be understood by humans, and therefore, offers opportunities for industries to create AI applications that are trusted, unbiased, and justified.
This balancing act is likely to become an increasingly prominent subject of discussion during 2022 as more people become aware of the potential positive and negative effects on society that AI and other technology trends will have.
---
Distributed Enterprise Computing
Damon M. Carlson, Educational Technologist
With the rise in remote and hybrid working patterns, traditional office-centric organizations are evolving into distributed enterprises comprised of geographically dispersed workers. The Future of Edge Computing Is Changing is an area to watch in 2022.
---
Low Code/No Code Development Platform
Qiyuan Li, Data Modeler and Developer
Low Code/No Code (LCNC) platforms is a program development environment using GUI to reduce traditional hand-coding efforts. Instead of learning in-depth knowledge of computer languages and writing chunks of code, people can build enterprise level applications, even Artificial Intelligence apps, on LCNC platforms without a single line of code. Since LCNC naturally lowers the bar of learning application development, K-12 students can potentially practice the deductive logics intrinsic to coding on LCNC at a younger age, college students can also focus on the rituals and roles of the methodology when they are first introduced to complicated concepts.
---
Zoom
Dave DeCamp, Educational Technologist
While BU has mostly returned to residential learning, Zoom continues to be a powerful platform for video conferencing in approved online or hybrid classes, for connecting to guest lecturers, or for hybrid meetings. Zoom has continued to update their platform with feature and security upgrades throughout the Fall semester including: presentation slide control, polling upgrades, and automatic updates, among others.
---
Apple VR Glasses
Wendell Seale, Senior Platform Administrator, Video Streaming
Apple has always been synonymous with innovation and cutting-edge technology. So it should not be a surprise that they would be working on a top-secret project. Many pundits are speculating what that might be, will it be a new iPhone or an Electric car? However, it's rumored that Apple Glasses will be one of the new techs to watch in 2022.
According to several sources as well as patent filing by the company which has shown that they are working on VR glasses, Apple is investigating multiple ways virtual and augmented reality could be implemented into future iOS devices or new hardware products. Apple's focus on AR/VR has ramped up over the past few years, and an augmented reality product could launch as soon as 2022. The company is rumored to have a secret research unit deeply involved in the development of these VR glasses.
---
Digital Wallets
Kevin Wiles, Platform Administrator
Our wallets have not been immune to the reaches of technology. For years now we've been able to add payment cards to smartphones and use NFC technology to pay for goods and services. More recently, our "wallets" have been able to add things like loyalty cards, car keys, concert passes, and boarding passes. But companies aren't stopping there – we are now seeing growing support for government-issued cards like licenses and even passports. We may never need to carry a wallet again!