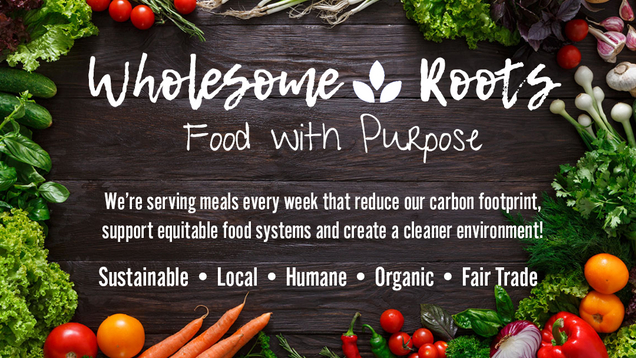 Join us for Wholesome Roots, a celebration of sustainable foods in line with BU's Climate Action Plan. Menus showcase foods with a lower carbon footprint, including local, seasonal fruits and vegetables, humanely raised poultry, Fair Trade organic coffee, and sustainable seafood.
Once a week in each dining hall, on Wholesome Roots day, we swap red meat for poultry, seafood, and plant-based menu items that have a lower environmental impact. Did you know half of all greenhouse gas emissions come from farmed animals come from red meat? One 4oz serving of beef has the carbon footprint equivalent of driving 6.5 miles – driving the Comm. Ave. Loop shuttle route 2.5 times.
You'll find Wholesome Roots every week on Mondays at Fresh Food Company at Marciano Commons, Tuesdays at Fresh Food Company at Warren Towers, and Wednesdays at Fresh Food Company at West Campus.