Our team
Who are we? Currently, we're a team of writer-editors, print and interactive media designers, video and event gurus, and one whiz at BU's sourcing systems.
Jeff Cruikshank serves as the executive director of advancement communications. A 1974 graduate of Amherst College and a 1987 graduate of the Harvard Business School's Program for Management Development, he has produced communications for more than two dozen campaigns, ranging from million-dollar capital efforts to billion-dollar comprehensive campaigns. He has worked with former DAR Senior Vice President Scott Nichols on three previous campaigns. Before joining DAR in 2010, Jeff worked on a series of BU-related publications, including the public version of President Brown's 2007 strategic plan as well as case statements for CFA, the BU School of Law, the BUSM student residence, and the Student Services project.
He has also written a number of books, including The Man Who Sold America, a biography of advertising pioneer Albert Lasker, published by the Harvard Business Review Press in 2010.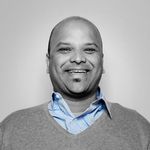 Scott Ellison is DevCom's assistant director for digital content & design. He holds a bachelor's degree in fine arts from Northeastern University. Born in Kuala Lumpur, Malaysia, he has lived in other places, including Hong Kong; Tokyo, Japan; Austin, Texas; San Jose, California; Toulouse, France; and Boston. After 14 years as a graphic designer in Boston's publishing industry, he joined DevCom in October 2018 and assumed his current position in February 2020.
Scott is passionate about art, culture, and technology. His interest in new cultural experiences leads him to travel and explore the world.
Scott's DevCom responsibilities include designing many of DevCom's print and multimedia/digital projects, managing websites, and staying abreast of development and innovation in new digital channels.
Suzan Glaum is DevCom's associate director of design and new media. Suzan holds a master's degree in graphic design from the University of Massachusetts–Dartmouth and a bachelor's degree in graphic design from the University of Marmara in Istanbul, Turkey. She started her career as a designer at the Young & Rubicam ad agency, and has since worked for the in-house design departments of several US companies. While maintaining her busy career, she also taught graphic design courses at Mount Ida College for four years, before joining BU's DevCom team in October 2012.
She is passionate about the design industry and has extensive experience in print, web, and multimedia. Her work has been widely recognized and exhibited at galleries throughout Europe and the United States, and she's won several awards.
Her DevCom responsibilities include oversight of the department's design and new media efforts and the design of print and multimedia fundraising materials used throughout the University. She works closely with the DevCom director and supervises the department's design and new media team to produce high-quality products that are consistent with BU brand standards.
Dave Goldstein is senior program coordinator for DevCom and Stewardship. Before joining the DevCom team, Dave worked as a staff coordinator for the Global Leadership Development team at DAR, and before that, he worked for what is now the Questrom School of Business. He has a bachelor's degree in history from George Washington University.
Dave is responsible for carrying out the administrative functions for the team, including procurement and vendor relations.
Louise Kennedy is DevCom's senior writer and editor. Louise comes to DevCom from a long career as a Boston arts journalist. Most recently, she was senior producer for arts engagement at The ARTery, WBUR's multimedia home for arts and culture, where she still contributes occasional articles. At WBUR, she also served as senior education editor, launching the multimedia platform Edify for education coverage, and founded the station's department of community engagement. And she's the Louise in wbur.org's "Project Louise," a yearlong series on her intermittently successful efforts to exercise more and worry less.
Before that, Louise was a longtime editor and writer at The Boston Globe, most recently as chief theater critic. She also worked at various newspapers and magazines around New England, some of which still exist. A native of Dayton, Ohio, Louise holds a bachelor's degree in history from Yale College. (Ask her anything about women in the French Revolution.) She is the co-author, with Linda K. Rath, EdD, of The "Between the Lions" Book for Parents: Everything You Need to Know to Help Your Child Learn to Read and has taught journalism at Emerson College.
David Lee is the senior integrated media producer for DevCom. He holds a bachelor's degree in computer engineering from Tufts University. Although he worked as a software engineer at first, he soon discovered his passion for media production. Before joining Boston University, he worked for over a decade as a video producer at Health Dialog in Boston, where he produced award-winning health videos helping people lead happier and healthier lives.
David is responsible for overseeing video production and strategy for DevCom, as well as planning and producing multimedia content to support DAR development and stewardship events.
Jiani Liu serves as DevCom's graphic designer. She holds a BA in design and visual communications from Xi'an Jiaotong University in China, as well as an MA in graphic design from Suffolk University. Before arriving at Boston University in July 2015, she interned at Next Mile Project and several startups in the Boston area. She seeks to integrate both Eastern and Western design aesthetics to emphasize the global aspirations of Boston University and cater to global audiences.
Jiani is responsible for creating digital graphics and print collateral, including email banners, invitations, posters, and proposals.
Lisa Nault is DevCom's producer/editor. She holds a bachelor's degree in communication (media arts) and psychology from Simmons College. She works closely with various departments to create video content from the preproduction stage all the way to post-production. Usually she can be found carrying large bags of equipment from shoot to shoot or hidden behind her computer in the midst of an editing session.
Before joining the DevCom team, Lisa interned on two different documentaries that aired on PBS and American Experience. She also worked on an independent feature film, Wetware, as the post-production supervisor, assistant editor, and set still photographer. While at Simmons, Lisa hosted two national award-winning/nominated radio shows and was editor-in-chief of The Simmons Voice newspaper. She loves working in Boston and having the opportunity to tell people's stories through film.
Julia Serazio is DevCom's senior director, overseeing all of the team's work while specializing in the writing and editing end of things. She holds a bachelor's degree in (not surprisingly) English, from Cornell University, as well as a master's in journalism from Columbia University. She came to BU from Yale, where she worked in development communications during the record-breaking "Yale Tomorrow" campaign; before that, she spent a fairly frantic but happy decade as a journalist, holding editorial roles at The Houston Press, New York Magazine, Condé Nast Portfolio, and Next City while also writing for publications including The New York Times, The Boston Globe, and the Houston Chronicle.
Julia is a Boston native and is very happy to be home. Go Pats!
Thea Singer is DevCom's associate director, serving as managing editor for the team and writing and editing all manner of copy. She earned her bachelor's degree in English literature from Northwestern University, only occasionally venturing into the Windy City.
She is a longtime journalist, editor, and critic whose articles have appeared in numerous print and online publications, including the Washington Post, The Boston Globe, Scientific American, Inc., Newsweek, The Daily Beast, MORE, O the Oprah magazine, and Psychology Today. She came to BU after serving as Northeastern University's science writer for two years. Her book, Stress Less (Viking/Hudson St. Press, 2010), sprang from the research of Nobel laureate Elizabeth Blackburn linking psychological stress with aging, all the way down to our cells.
She taught science writing at MIT for several years and has been a publisher-in-residence at Emerson College. A highlight: She is the proud parent of a BU student (CAS'21), who has turned her into a hockey fan.