Community Highlight: GSDM "Tooth Twins"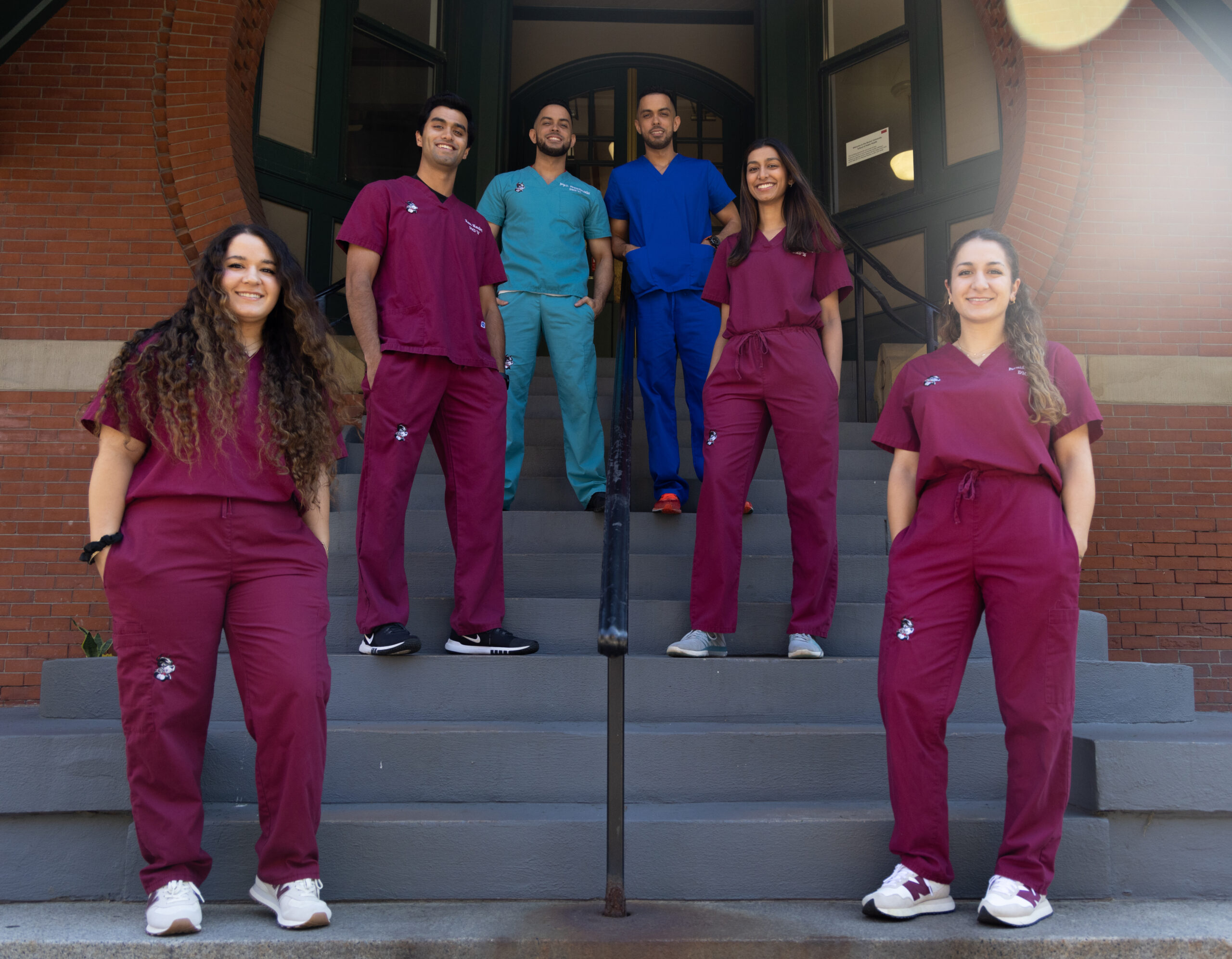 Don't worry, you aren't seeing double. However, what are the odds that three sets of twins ended up at the same dental school at the same time?  
GSDM Communications spoke to three current GSDM student twin sets about their remarkable paths to dentistry and their experiences being dental peers–a phenomenon we've dubbed "Tooth Twins." 
---
Parmida Masoudi CAS 20 Wheelock 21 DMD 26 and Parsida Masoudi CAS 20 DMD 26 
Fraternal twins Parmida Masoudi and Parsida Masoudi grew up in the world of dentistry, occasionally accompanying their mother to her work as a dental hygienist. Yet, their individual dental journeys began at different times.  
"I knew when I was in fifth grade," Parmida said. "Actually, I looked [back] at my fifth grade yearbook and they asked 'What do you want to be when you grow up?' Mine said dentist."  
Both went to Boston University for their undergraduate degrees, but on different pre-professional tracks (Parmida as pre-dental, Parsida as pre-medical)–the first of their unplanned life decisions that led them to the same place at the same time. They said each time has been a happy coincidence.  
During her sophomore year, Parsida decided to explore her options in the medical field, as she didn't know exactly what she wanted to study. She ended up shadowing local dentists, which helped her realize that dentistry was the career choice for her.  
Both sisters joined the Boston University Pre-Dental Society to learn more about what it means to be a dentist. The society introduced them to GSDM during the 2018 GSDM Student National Dental Association (SNDA) Impressions Day, an annual event organized by students from GSDM's SNDA chapter. The event's goal is to educate pre-dental students about the dental school application process and provides honest insight about what it is like to be a dental student. 
Parmida and Parsida said the SNDA Impressions Day was beneficial as it gave them an insider perspective into the culture of the school–and helped them picture themselves fitting in as dental students.  
"We're Iranian as our background, and we're so happy that there are other fellow Iranians, not only in the DMD class, but in the AS class," Parmida said. "There's a Persian society (GSDM Persian Student Dental Association) that we can feel comfortable fitting in here. Not that that doesn't exist in other schools, but I think here everyone's really supportive of one another and that was the thing that generally drew us to GSDM."  
When they made their decisions to attend GSDM, the pair was asked a common "twin misconception" question: Did they plan to attend the same school, again?  
"We never actively planned for these things," Parsida said. "When we wanted to go to undergrad, we applied to schools and when we were visiting schools, both of us just ended up liking Boston University and that was both of our tops. When we both got in, we decided to go. It was a similar thing for dental school as well, but it was definitely nice to be able to do undergrad and grad school with my sister."  
Parmida emphasized that she would have been supportive, regardless of Parsida's decisions–but she is happy to have her at GSDM. She said it relieved stress to have a built-in support system at dental school since day one.  
"I was really just very happy that she decided that this is the right path for her as well," Parmida said. "We were just very supportive of one another, even if we decided to do separate things and go to separate places…It happened that we're doing it together and power in numbers and we complement each other really well in terms of our strengths and weaknesses."  
Now in their second year of the DMD program, Parsida said she is thankful to have someone she can rely on to give her honest, unfiltered advice. She appreciates having someone to look at her preps and restorations–and knows that Parmida wouldn't hold back what she is thinking.  
"Someone that you can actually trust their opinion in is nice," Parsida said.  
While the pair doesn't have solid plans yet for after they graduate, Parmida said she knows she will always have the love and support of her twin sister, regardless of where they end up.  
"It would be awesome to stay together [after Commencement]," Parmida said. "If the journey is that we go together, that's great and if not, that's also really great. But, I think ultimately, we will find our way back to each other if we ever do separate things or work in separate clinics and things like that. Our interests are aligned, so I don't see why [there would not be where] we would come back together and do something."  
---
Jess Bhambra DMD 26 and Shaan Bhambra DMD 26
Fraternal twins Jess Bhambra and Shaan Bhambra are following in the footsteps of their father, John Bhambra DMD 94 ENDO 07, by attending his alma mater for their dental education–and they couldn't be happier to do so. 
"It's certainly something that's special to both of us," Shaan said. "We never really anticipated that we would have the opportunity to both be here. When we realized that that would be a possibility, we were both very excited."  
During high school, Jess and Shaan became passionate about dentistry after shadowing different professions and providers. They separated during their undergraduate years, with Jess attending Nova Southeastern University in Florida and Shaan attending the University of Rochester in New York.  
"[In our] early mid-high school years, we kind of figured out that we both wanted to pursue dentistry," Shaan said. "At the time, I don't think either of us thought we would ever end up at the same dental school but, we both thought it was cool that we wanted to do the same thing." 
Shaan said he commuted to his undergraduate classes and enjoyed having family to come home to every day. When he applied to dental school, he realized, to his dismay, that–for the first time–he might end up somewhere far away from his family. So, when Jess and Shaan realized they were both interested in GSDM for a variety of reasons, it made their decisions even easier to make.  
"That was definitely a big difference, especially being so far away from him," Jess said of her college years. "We had done everything together, [in] high school, our teachers put us in the same projects on purpose. So, it was definitely very different not seeing him every day, but I think that was what made this even more special now, that we still have to become our own people, but now we're back together, stronger, and better."  
Throughout their dental school experience, Jess said it's been beneficial having someone who knows her so well going through the exact same experiences as her.  
"I think that's really a big advantage, because I think people who are outside of the dental world don't always understand what dental school is like," Jess said "It's one thing to be able to talk to your friends about it, but I feel like, at least for my brother, especially for him, he's seen me at my highs and my lows, and my lowest lows and my highest highs. Just being able to have someone who's seen every part of your journey and still care about you is really nice."  
Although Jess and Shaan are both entering dentistry, Shaan said the field is incredibly diverse and they may end up having very different careers. He's intrigued to see what they will each decide about what comes next.  
"I know possibly it could be specialization for one of us or for the other, it could be something like academia, pursuing something like that in the field of dentistry," Shaan said. "That would be cool."  
---
Jorge Peralta DMD AS 24 and José Peralta DMD AS 25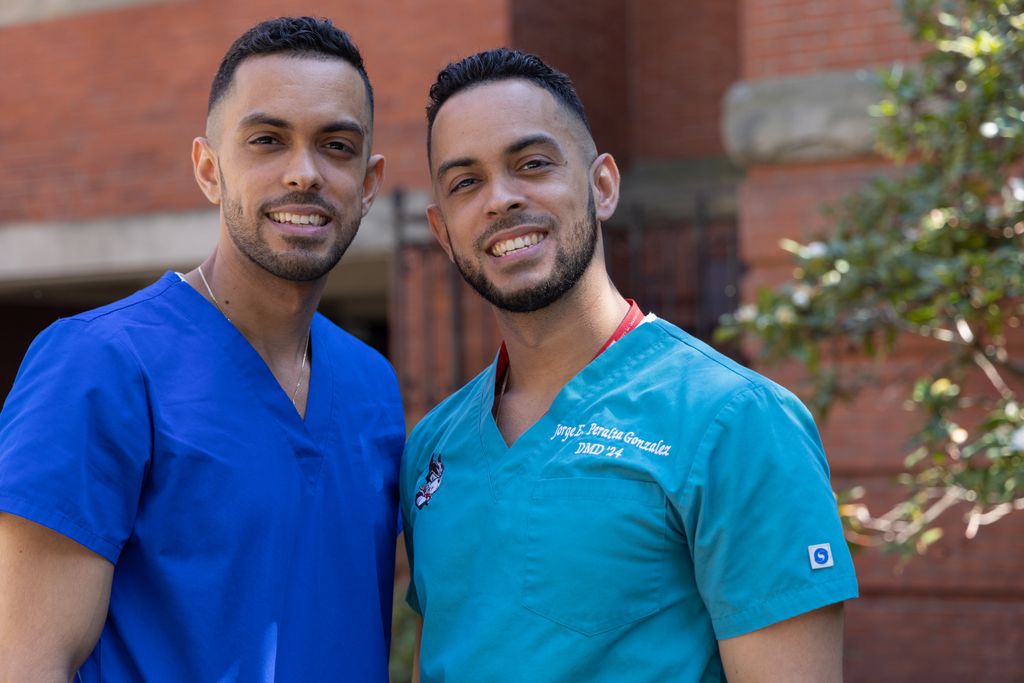 Jorge Peralta and José Peralta's mom, dad, younger sister, and multiple uncles all work in the dental profession, so dentistry was practically in the identical twins' DNA. Yet, the twins went down quite different paths to get where they are today.  
Originally from the Dominican Republic, the brothers both attended Pontificia Universidad Católica Madre y Maestra (PUCMM) with track and field scholarships for a five-year program dental degree program. The pair said they were always together, helping each other get through their studies.  
"We see our way of being is dentistry," Jorge said. "It's in the family and family in my culture is the number one thing. Everything that you do is to support and push your family to develop in all aspects. It's good that you have sport, dentistry, and family in the same place." 
After the twins graduated from PUCMM in 2015, Jorge wanted to continue his athletic pursuits and accepted a track and field scholarship from ASA College in New York. He graduated from ASA in 2017 with an associate degree, and then explored a variety of jobs, before eventually becoming a dental assistant at Columbia University.  
As for José, he had a shoulder dislocation injury after graduating from PUCMM, which required multiple surgeries. He had his surgeries with Creighton University's Institute for Latin American Concern (Creighton-ILAC), which is when he first learned about the organization.  
After his first surgery, José decided to dedicate himself to tutoring full-time–helping students with biochemistry, pharmacy, and anatomy–while working part-time in his mom's dental clinic. His first student was Mayerling Peña, who would graduate from GSDM in the Class of 2023. She would ultimately become influential to both José and Jorge's dental journeys. 
"At the beginning, I helped her to study and now, she helped us [have a] relationship with Boston University," José said.  
While José was tutoring, he used the summer breaks to volunteer with Creighton-ILAC. This program provides health services and infrastructure development to rural communities in the Dominican Republic, as well as giving high school, undergraduate, dental, medical, nursing, and additional professional program students the opportunity to learn through service. José did dental volunteering with Creighton-ILAC every summer for about a month, for three years.  
José received a scholarship to study English from Creighton University in 2020. He was also hired to be a program coordinator for Creighton-ILAC, helping to organize the programs in the Dominican Republic.  
During this time period, Jorge passed his board exams and began applying to dental school programs in the United States – thanks partly to tutoring from José.  
When making the decision about dental school, Jorge remembered learning about GSDM from José's former student, Peña. With her guidance and his research, GSDM seemed like the perfect fit. He started the GSDM DMD Advanced Standing program in 2022.  
"New York is too stressful. Boston, everything is more calm," Jorge said. "I needed to make that change. I had the feeling." 
After Jorge started at GSDM and after hearing Peña speak so highly about her experience, it only seemed right to join them at GSDM, José said. He loved the idea of joining his brother in dental school, once again.  
"At the beginning, I helped them both teaching, but then they helped me in the process," José said.  
Now that they are both in Boston and attending the same Advanced Standing program–one year apart–José said their dreams have become a reality. They always wanted to be dentists and be close to each other. Now, they are closer than they could have even imagined.  
"The only thing I would say was [it] took us a long time, but it was worth it," Jorge said.