Twenty-nine GSDM faculty and alumni elected into honorary dental organizations
Twenty-nine members of the Boston University Henry M. Goldman School of Dental Medicine (GSDM) community were inducted into the American College of Dentists (ACD) and the International College of Dentists (ICD) in 2021— a testament to the significant contributions that GSDM alumni and faculty have made to the dental profession. 
 "A person must be nominated by two current fellows for either of these honorary organizations and it truly is an honor to be considered for fellowship," said Celeste Kong PROS 84 DMD 87, chair and professor of General Dentistry. "As a proud fellow for both of these wonderful organizations and the current deputy regent for Massachusetts ICD, I often recruit colleagues from GSDM as I believe we have stellar faculty who by virtue of their dedication to education and promoting oral health care, are already the types of fellows ICD and ACD are seeking."  
 Twelve GSDM alumni or faculty were inducted into the ACD, which is the oldest major honorary organization for dentists in the U.S.. In order to be granted fellowship, candidates must be nominated by other fellows in the college. Typically, the organization holds an in-person convocation for its newest fellows during the American Dental Association's annual meeting; this year, inductees were honored virtually during a ceremony on October 14, 2021.  
 Seventeen GSDM faculty or alumni also joined the ranks of the ICD during a virtual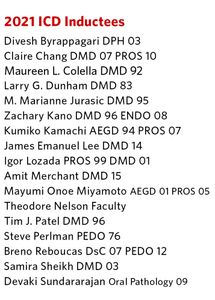 induction ceremony on December 3, 2021, which can be streamed here. The ICD has 12,000 members in over 122 countries. Fellowship in the organization is by invitation only and is granted in recognition of an individual dentist's outstanding professional achievement, meritorious service and dedication to the continued progress of dentistry for the benefit of humankind. 
"Congratulations to all of our alumni and faculty who were inducted into the ACD and the ICD," Stacey McNamee, director of Alumni Relations & Annual Giving, said. "Being inducted into these organizations is an honor—I know that I speak for all of us at GSDM when I say that we are proud of you!"  
We apologize if we missed any GSDM faculty or alumni who were inducted into ACD or ICD last year. Please email gsdmcomm@bu.edu to let us know if we've inadvertently overlooked you, and we will update our story.