GSDM volunteers aid in commencement efforts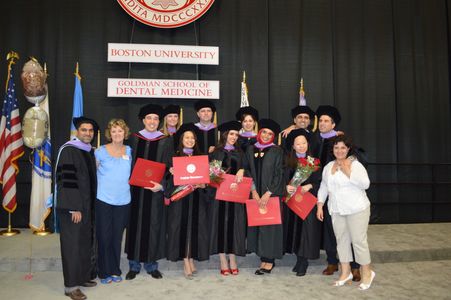 If you've ever attended a Henry M. Goldman School of Dental Medicine commencement convocation ceremony before, you've most likely seen Barbara McKenna or Edlira Kerthi directing students and families, fixing caps and gowns, and calming nervous graduates.
McKenna and Kerthi are two of the approximately 25 volunteers who help our GSDM commencement convocation run smoothly each year. They both work in the Department of Endodontics —McKenna as the postdoctoral endodontic patient treatment center and administrative manager, and Kerthi as the postdoctoral endodontic patient treatment center coordinator—and both are long-time commencement volunteers.
McKenna first volunteered 19 years ago.
"When I started years ago, Beth Bouhmadouche, the registrar—she only had her people in the office [volunteering]. So I approached her and asked if I could help," McKenna recalled.
"Since then, it's really grown."
This year is also the first time that McKenna did not volunteer since she had a wedding to attend in New Hampshire. It's the first commencement she's missed in 19 years.
Kerthi started volunteering 11 years ago. She said she volunteers as a way of giving back to BU, which she says has given her so much.
Both McKenna and Kerthi have done a variety of commencement tasks throughout the years.
At the first few commencements she volunteered at, McKenna said that each student was given four tickets for families and friends—and only people with tickets were let through the door.
"Trying to tell people they couldn't bring 20 guests through the door…that was tough," she remembered.
Recently, the two have been tasked with directing graduates and attendees throughout the venue.
"The students and residents, they're so confused when they come, and their families are there, and it's such an exciting time for them, and they just—they get stressed out," said McKenna.
"After so many years [volunteering] we can calm them down," she added.
McKenna and Kerthi both said that, for them, commencement is emotional.
"[When] our residents enter the programs, we do mini interviews," Kerthi said. "So it's nice for us to see them graduate."
"They're like our kids," she added, with a laugh.
"When they play that pomp and circumstance……I think the first time I heard that I was bawling my eyes out," said McKenna. "Every single year, it's the same."