GSDM community takes Yankee Dental Congress by storm
From a jam-packed alumni reception to a bustling alumni lounge, from research presentations to award receptions, the Boston University Henry M. Goldman School of Dental Medicine community made the most of every minute of the 2019 Yankee Dental Congress, held January 31 through February 2, 2019, at the Boston Convention & Exhibition Center (BCEC).
The alumni lounge was in a new location on the exhibition floor, but that didn't stop GDSM alumni and friends from stopping by to catch up with classmates, colleagues, and GSDM faculty, staff, students, and residents. More than 750 people visited the alumni lounge during the conference's three days, with many of them returning multiple times. While there, they were able to take a break, grab some snacks – as well as Boston University lanyards and chocolates! – and take pictures with friends, former faculty, and even Dean Jeffrey W. Hutter. And GSDM's Continuing Education team was at the alumni lounge throughout the conference, offering alumni who swung by an additional 10 percent off the already 20 percent-discounted alumni rate. (For more information about upcoming CE courses, click here.)
Of course, one of the peaks of the weekend was the annual alumni reception on Friday, February 1, 2019, which more than 600 people attended. (Read separate story here.) But there were a number of other GSDM highlights throughout the conference – read on for details!
Senior dental student recognized by American College of Dentists
Christine Chiao DMD 19 received the Senior Dental Award from the American College of Dentists in recognition of her outstanding achievements in academics, leadership, and initiative. Chiao was one of five New England dental students to receive the award; the other recipients were from Harvard University, Tufts University, New England University, and the University of Connecticut. Dean Jeffrey W. Hutter presented the award to Chiao at a luncheon on Saturday, February 2, 2019.
"Upon graduation, I know Christine will continue to make a difference, both in the lives of individual patients and for the field of dentistry as a whole," Dean Hutter said during the presentation. "Christine's dedication to dentistry and oral healthcare, and to helping those around her, is an inspiration to all of us at the Henry M. Goldman School of Dental Medicine."
GSDM students and residents make strong showing during Student Poster Session
Seven of GSDM's predoctoral students and postdoctoral residents were among 24 finalists selected by the Yankee Poster Session Committee to present their research during the Student Poster Session on Saturday, February 2, 2019. The students and residents presented research in one of three categories: predoctoral students; postdoctoral residents; and dental hygiene students. GSDM resident Abdelrouf Suwid PERIO 19 won for the postdoctoral category.
The GSDM presenters were:
Bushra Aljahdali PERIO 21. "Regulation of TNF Gene Expression by TNFAIP1 as an Activator or Suppressor in Response to LPS. Department of Periodontology."
Mohammed Moeeduddin Ahmed PROS 22. "Tensile bond strength of titanium on e.max CAD after different firing cycles and etching methods. Department of Restorative Sciences and Biomaterials."
Mohammad Mourad DMD 19 "Implementation and Utilization of Digital Dentistry (CAD/CAM) in US Dental Schools – An Integration Path from Preclinical to Clinical Education. Department of General Dentistry."
Taylor Paek DMD 20 "Mechanical Properties of Translucent Zirconia Material. Department of Restorative Sciences and Biomaterials."
Abdelrouf Suwid PERIO 19. "Engineering Novel Models for Craniofacial Bone Regeneration. Department of Periodontology."
Hillary Sawyer PERIO 20. "The Ring: Three-Dimensional Vertical Augmentation. Department of Periodontology."
Abeer Tashkandi PROS 20. "Surface Treatment and Sintered Status Effect on Zirconia Bond Strength. Department of Restorative Sciences and Biomaterials."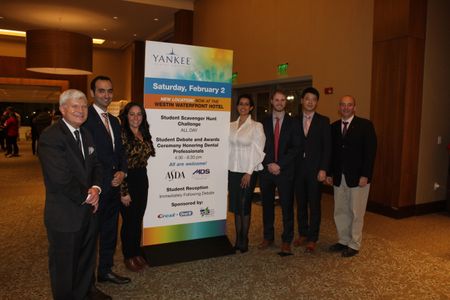 GSDM alumni and faculty named to "10 under Ten" list
Four GSDM alumni and one GSDM faculty member were named to the 2019 "10 under Ten" list by the Massachusetts Dental Society during a ceremony on Saturday, February 2, 2019. The "10 under Ten" award honors dental professionals who are exemplary volunteers and rising stars in their profession. The GSDM alumni recognized this year were: Colin Brady DMD 13, Theresa Guanci DMD 14, Kadambari Rawal AEGD 10 DPH 18, and Cameron Shahbazian DMD 14. Dr. David Kim, a GSDM faculty member, was also recognized.
"It is no surprise that Drs. Brady, Guanci, Rawal, and Shahbazian were selected to receive this recognition," Dean Hutter said. "They all made invaluable contributions to the GSDM community during their time as students or residents, and I am thrilled to see they are continuing that track record of excellence throughout the early years of their careers."
Dr. Rawal was also recognized for graduating from the MDS Leadership Academy, a year-long experience that is designed to help leaders in the field think strategically about emerging institutional and information needs, changing expectations, new technologies, and long-range plans.
GSDM students tackle corporate dentistry in student debate
Taylor Paek DMD 19 and Rujuta Shukla DMD 19 represented GSDM in the 10th annual ASDA District 1 Student Debate on Saturday, February 2, 2019. Facing off against a team from another New England dental school, Paek and Shukla debated whether it's beneficial or detrimental to the dental profession for new dentists to choose to work in a corporate dentistry setting. While Paek and Shukla did not advance beyond the first round, they demonstrated an advanced and nuanced understanding of the issue.
"I am proud to see our GSDM students engage in this type of thoughtful – and thought-provoking! – analysis of the central issues facing the profession of dentistry today," Dean Hutter said.
GSDM student awarded prestigious dental scholarship
Jessica Collins DMD 19 was presented with the Mathew Boylan Scholarship on Saturday, February 2, 2019, just prior to the ASDA District 1 Student Debate. Collins was one of three New England dental students to receive the scholarship, which was established by the Massachusetts Dental Society (MDS) and Eastern Dentists Insurance Company in memory of former MDS Executive Director Matthew Boylan. The scholarship is granted to a student or students who have provided distinguished service to organized dentistry and the community.