GSDM students travel globe as part of international externship program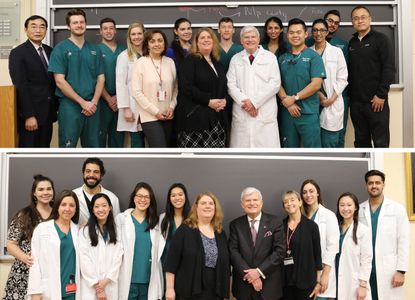 Fifty-six thousand miles – or more than twice the Earth's circumference.
That is how far students from the Henry M. Goldman School of Dental Medicine traveled last year as part of the International Student Externship Exchange (ISEE) Program, an opportunity to experience dental education, dentistry, and dental care delivery as well as the cultures in foreign countries outside the United States and Canada.
Yet despite the distance traveled and the differences discovered, all participating students walked away with a sense of just how much they shared with their international counterparts.
"While there were differences, I was happy to see that there were more similarities," Bowen Zhou DMD 19 said, who was part of the ISEE trip to China. "For a country that is so far from the U.S. geographically and politically, dentistry is still reaching for the same goal, and we're all striving to get there."
During the 2018-2019 academic year, a total of 16 students participated in the ISEE program, visiting dental schools in either China, India, England, or Japan and Thailand. The international dental schools in the ISEE program all went through a rigorous vetting process, and have signed academic affiliation agreements with Boston University.
"It is a true partnership that we have developed with these schools," Dean Jeffrey W. Hutter said.
Students were selected for the program, which is a four-credit elective course open to fourth-year DMD students, through a multi-step application process that involved a written application and in-person interview. International airfare for the program is covered thanks to the generous donors who support the School's Alumni Fund, which makes the program as accessible as possible for all students. The Office of Global and Population Health, under Dr. Michelle Henshaw's leadership, manages the program.
The ISEE is a true exchange program: Students from each of the international dental schools visited by GSDM students also have visited Boston. The opportunity to build real relationships with international colleagues made the experience especially meaningful, according to Christine Chiao and Jess Riccobono, who both participated in the Japan/Thailand trip.
Several students also said that the experience helped them develop a deeper understanding of different cultures, which will they believe will help them in their own practices and careers.
"We need to be relatable to patients from all different backgrounds," said Alex Foor DMD 19, who traveled to India. "It's important to expand your mindset. You learn a lot about dentistry, but also the world going on a trip like this."
Some highlights from the 2018-2019 visits:
Steve Brand, Alex Foor, Ellen Kim, and Manjot Pandher, all DMD 19, visited Manipal University College of Dental Sciences, which is ranked first among top dental colleges in India. Among other experiences, they had the opportunity to scrub in for surgery for a patient who had condylar hyperplasia. "They made it seem so easy and so seamless," Pandher said of Manipal's oral surgery team.
Peter Dorf, Bowen Zhou, Simrit Grewal, and Charmi Shah, all DMD 19, went to China, where they spent one week each at the Peking University School of Stomatalogy, the Third Affiliated Hospital Airforce Medical University School of Stomatology (formerly the Fourth Military Medical University School of Stomatology) and the Shanghai Jiao Tong University College of Stomatology. Oral surgery was a big focus of the trip, and the students had an opportunity to attend a cleft palate workshop. "I have never been in an oral surgery operating room, so I thought it was a great opportunity to see all these cases," Shah said.
Asia Yip, Gagan Dhaliwal, Elaine Wu, and Jessica Collins, all DMD 19, visited England and the University of Manchester School of Dentistry, which is the largest single-site university in the UK and is known for its world-class research. One of the things that stood out for students on this trip was how much the UK's National Health Service influences the delivery and accessibility of dental care.
Rowan Doyle, Katie Quan, Jess Riccobono, and Christine Chiao, all DMD 19, went to Thailand and Japan, visiting Faculty of Dentistry Chulalongkorn University in the former country and Tokyo Medical and Dental University in the latter country. In Japan, dental school is six years and begins right after high school – but students only begin in the clinic in their fifth year. The limited exposure to clinic hours during dental school makes it important for students to go on to pursue a specialty, said Doyle.