GSDM students showcase dental skills at international contest
Four countries. 12 schools. 36 competitors.
It sounds like the set up to an epic sports battle – but it was actually the scene at the first annual Skills Contest for International Dental Students, which was held in Shanghai, China, in November 2018. The contest, which was a friendly competition with no official rankings or scores, was an opportunity for dental students from around the globe to come together to learn from and with each other.
"The chance to practice our skills and see how we compare with students from around the globe was a really unique experience," said Steve Brand DMD 19, one of GSDM's three student participants.
Participants in the contest were asked to demonstrate dental skills in three core areas – endodontics, prosthodontics, and oral surgery – and to demonstrate basic life support for adults. Each participating school sent three students along with a faculty advisor, who would participate along with the other faculty advisors in judging the contest and providing feedback to participants.
Details of the procedures were shared in advance, so the GSDM team – Steve Brand, Molly Conlon, and Marti Gabriella, all DMD 19 – worked with faculty advisor Dr. Carl McManama to decide ahead of time who would do what, giving them time to practice. And they had still more time for practice when they arrived in Shanghai, as their first full day was allocated to a practice session.
"The most challenging part was being in a different place: the equipment was a little bit different than here," said McManama, who likened it to driving a rental car. "You know how to drive, but you still need to figure out where the lights are, how the windshield wipers work"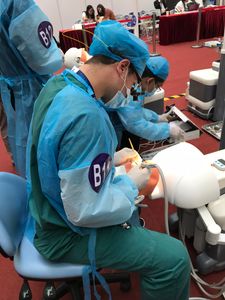 The practice day also gave the GSDM team time to adjust to the sheer scale of the event, which was held in conjunction with a dental conference, the 22nd China International Symposium on Dental Equipment, Technology and Products, that drew more than 60,000 attendees. During the practice day, many of those individuals were walking through the contest area, watching the participants practice.
"The whole time I was working, you had people walking around, taking pictures, videos, and asking to take pictures with us," Brand said.
Gabriella said she hadn't been nervous at all until they actually arrived at the expo, when everything "became very real. … [And] they had the host, and the music, and the professional video people."
But despite some nerves, the atmosphere among the contest participants and supervising faculty was very collegial and friendly, both during the practice day and during the contest itself.
"It was a very collaborative environment, with everyone sharing techniques," Conlon said, who got the chance to demonstrate her suturing technique on a pig's foot – "Bought at the grocery store that morning," she said – during the contest.
The contest was born out of a summit of top international dental schools, of which GSDM is a leading member. The summit provided an opportunity for deans and other leading faculty to learn from each other – but members of the summit also wanted to bring their students together.
"We have a lot of opportunities to discuss the research, but not as many opportunities to discuss dental education," Dr. Lee Chou, GSDM professor and consultant to Dean Jeffrey W. Hutter for Asian programs.
The dean of the Shanghai Jiaotong University College of Stomatology volunteered to host the first annual contest and secured grant funding to help pay the travel costs of participating students and faculty members.
"It's an honor to be part of this group of visionary deans who realize the importance of ongoing communication, learning, and sharing between dental schools, faculty, and students around the world," Dean Jeffrey W. Hutter said. "This event was possible because of the mutual trust and respect the participating schools have already developed – and in turn, it helped strengthen those bonds."
The GSDM team left Shanghai having learned lessons far greater than a single dental procedure or technique.
"The process of becoming practitioners is so different – length of school and what you learn at different points," Brand said. "But we're all learning the same things, and we're all trying to end up at the same point."
McManama agreed: "One of the things I realized is that dentists all over the world are very similar, and they're all great: They're all people who are really dedicated and hard-working," he said. "I feel really positive about the global future of dentistry."