GSDM alumnus named president of the American College of Prosthodontists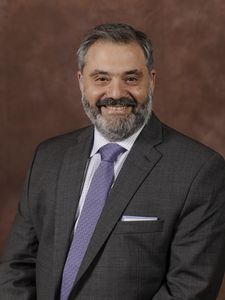 The American College of Prosthodontists (ACP) recently named an alumnus of the Henry M. Goldman School of Dental Medicine as the organization's new president.
Nadim Z. Baba PROS 99 MSD 00 was sworn in for a one-year term at the 48th Annual Session of the ACP, held in Baltimore, Maryland, from October 31 to November 3, 2018.
"It is a great honor to serve and be part of the ACP," Dr. Baba said in a press release. "I believe the strength of the College comes from the diversity, knowledge, and passion of the individual members, and their collective dedication to furthering the specialty."
A native of Lebanon, Dr. Baba received his DMD degree from the University of Montréal in Canada. He attended GSDM in the late 1990s and early 2000s where he received a CAGS in Prosthodontics and a master's degree in Restorative Sciences in Prosthodontics.
Dr. Baba is a prolific author and speaker on topics related to fixed and removable prosthodontics and implants. He is part of the editorial process for multiple scientific journals, including the ACP's official publication, the Journal of Prosthodontics. Dr. Baba serves as a professor in the Advanced Education Program in Prosthodontics at Loma Linda University School of Dentistry, and maintains a part-time private practice limited to prosthodontics and implant dentistry in Glendale, California, according to a press release from the ACP.
"It's a great honor to have a member of the GSDM alumni family named to this important leadership position within the ACP," Dean Jeffrey W. Hutter said. "I'm sure I speak for the entire GSDM community when I say that I'm extremely proud of Dr. Baba and that I wish him the best of success in this new role."