ASDA Students Travel to Vermont and Washington D.C. to Lobby for Oral Health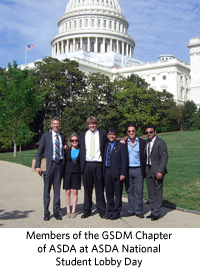 Members of the ASDA Legislative Committee, Robert Cauley DMD 14, Kiirsten Finn DMD 14, Sameet Gill DMD 14, and Erik Harriman DMD 14 joined members of the Vermont State Dental Society (VSDS) on April 12, to participate in the Legislative Day. After a morning meeting with members of the VSDS, the students met with representatives from Vermont State Legislature and sat in on a health policy meeting. Since Vermont appears close to passing a mid-level provider bill, the VSDS and students from GSDM lobbied against the immediate implementation of a mid-level provider program in the state.
Later in the month—April 16 and 17—Dhiren Agrawal DMD 13, Varun Arya DMD 13, Alexandra Costa DMD 14, Erik Harriman DMD 14, Marc Horton DMD 14, and Julian Camastra DMD 15 traveled to Washington DC to participate in the ASDA National Student Lobby Day.
The students spent Monday with peers from dental schools across the country learning about issues important to dentistry at the federal level, and they were excited to hear a speech by special guest Congressman Paul Gossar, DDS (AZ-01). On Tuesday, the students attended meetings with representatives from Massachusetts, Rhode Island, Maine, Pennsylvania, New Jersey, and Idaho. The students lobbied for H.R. 1666 Breaking Barriers to Oral Health Act of 2011 and H.R. 4170 Student Loan Forgiveness Act of 2012.