Students Extend Lobbying Effort North to Maine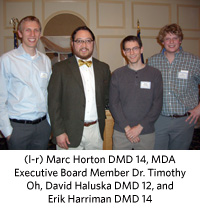 Marc Horton DMD 14, David Haluska DMD 12, and Erik Harriman DMD 14 traveled to Augusta, Maine on February 7, to participate in a lobbying event sponsored by the Maine Dental Association (MDA). The students met with officials from the MDA in the afternoon and in the evening they joined member dentists at the MDA's Legislative Reception, where they spoke with Representatives from the Maine State Legislature about issues important to dental students and new graduates.
This was the first time students from GSDM have been involved in a MDA legislative event, but the students say they felt welcomed by both the MDA and the State Representatives, and they look forward to continuing this relationship. The students are members of the BU Chapter of ASDA and Horton is on the ASDA Legislative Committee. Recently the BU Chapter received funding from ASDA for lobbying trips to Maine, New Hampshire, and Vermont. Haluska and Harriman are both Maine natives.
Horton encourages students to get involved in a lobby trip. He is currently organizing a trip to Vermont to participate in Vermont Legislative Day on Thursday, April 12. If you are a student who would like to attend you should email Horton with a brief statement of your interest in the event by Friday, March 16. All student transportation and lodging expenses will be covered by ASDA. Additional lobbying opportunities will also be coming up shortly in Massachusetts and New Hampshire.