ADA Appoints Dr. Jonathan Shenkin as Spokesperson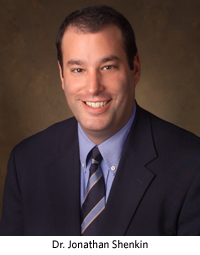 Earlier this month Boston University Henry M. Goldman School of Dental Medicine (GSDM) Clinical Assistant Professor of Health Policy and Health Services Research Dr. Jonathan Shenkin was appointed National Media Spokesperson on Pediatric Dentistry for the American Dental Association (ADA). In this role he will serve as a resource for reporters and other media contacts seeking comment on pediatric dentistry topics from the ADA. This appointment is renewable each year.
Dr. Shenkin has been involved in organized dentistry since he was a dental student at Columbia University College of Dental Medicine. He went on to complete a MPH at Johns Hopkins Bloomberg School of Public Health, a Residency in Dental Public Health at the National Institute of Dental & Craniofacial Research (NIDCR), part of the National Institutes of Health (NIH), and a CAGS in Pediatric Dentistry at the University of Iowa College of Dentistry.
For the past six years he has served as a consultant on nutrition and community issues for ADA Council on Access, Prevention, and Interprofessional Relations (CAPIR). He is also a delegate to the ADA House of Delegates and a member of the ADA Council on Communications.
"I am very much looking forward to this endeavor because it will allow me the opportunity to share my knowledge of pediatric dentistry and public health with the public," said Dr. Shenkin. "For many years I have been striving to improve oral health for children and I believe that this role will serve as a new vehicle to accomplish that goal."
Dr. Shenkin is also the President of the Maine Dental Association and is nationally recognized for his work on improving school nutrition, children's oral health, and initiating the ban on smoking in cars when children are present, first in the City of Bangor and then statewide in Maine.
"Dr. Shenkin continues to be a leader in health policy, at both the state and national levels," said Professor and Chair of Health Policy and Health Services Research Dr. Raul Garcia. "It is highly gratifying that he has been entrusted with this important spokesperson role by the ADA."
In addition to teaching at GSDM Dr. Shenkin also works full-time at his private practice, Augusta Pediatric Dentistry, located in Augusta, Maine and is a Diplomate of the American Board of Pediatric Dentistry.