Biochemistry Highlights Dr. Erdjan Salih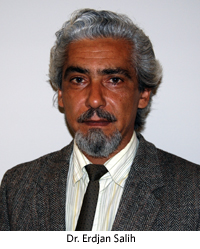 Research by Boston University Henry M. Goldman School of Dental Medicine (GSDM) Associate Professor Dr. Erdjan Salih and Professor and Chair of Periodontology and Oral Biology Dr. Frank Oppenheim was published in a recent edition of Biochemistry.
The article, "Modulation of Bone Resorption by Phosphorylation State of Bone Sialoprotein," details research that Dr. Salih completed at Harvard Medical School and Children's Hospital with Paul Curtin, Kevin P. McHugh, Hai-Yan Zhou, Rudolf Fluckiger, and Paul Goldhaber; as well as research collaborated on with Dr. Oppenheim at GSDM.
"Dr. Salih's outstanding research is a credit to him personally and to his department," said Dean Jeffrey Hutter, continuing, "his contributions also serve to further elevate the reputation of GSDM as a premier research institution."
Dr. Salih's research highlights one protein, bone sialoprotein, that is participating in two opposing biological phenomena: bone formation and bone resorption.
"Prior to the publication of this research, we had established that in its native form, composites of bone sialoprotein, with collagen as implants in in vivo calvarial defect bone repair and reparative dentinogenesis models, induced new bone and dentine formation," said Dr. Salih. "However, it was not known that in a dephosphorylated form, bone sialoprotein could stop bone resorption by inhibiting osteoclast formation in bone organ cultures, which closely mimic in vivo circumstances."
Dr. Salih added, "Based on these findings we can now isolate the specific peptide regions of bone sialoprotein that are responsible for inhibition of bone resorption for use as peptidomimetic therapeutic agents in the treatment of osteoporosis. Such therapeutic agents will also have potential application in clinical dentistry to stop or prevent periodontal disease, which involves osteoclastic bone resorption with ultimate loss of bone surrounding the tooth root."