Dr. Xiaoren Tang Awarded NIAID Grant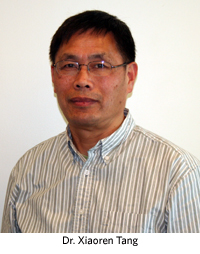 Research Assistant Professor of Periodontology and Oral Biology Dr. Xiaoren Tang was awarded a grant by the National Institute of Allergy and Infectious Diseases (NIAID), an institute of the National Institutes of Health (NIH), for his research titled, "Role of p53 in LITAF-Mediated Inflammatory Process," in February 2009. The grant will fund Dr. Tang's research for two years and amounts to $445,500.
"This grant is the culmination of a substantial amount of work," said Professor and Director of the Center for Anti-inflammatory Therapeutics Dr. Salomon Amar. "Dr. Tang has worked in my lab for ten years and this is his first R21 award. It is a wonderful opportunity for him to become an independent investigator."
In 2007, Drs. Tang and Amar published a paper in Cancer Research detailing preliminary findings about the effects of p53, a gene, on LITAF, another gene, and subsequently on Tumor Necrosis Factor (TNF), which causes inflammation. Up until 2007, p53 was widely studied as a tumor suppressor gene.
"Through extensive research, we found that p53 controls LITAF by binding to LITAF as a cell promoter and enhancing the LITAF gene expression," said Dr. Tang. "LITAF gene expression regulates TNF, which in turn modulates inflammation."
Further research has allowed Dr. Tang to narrow down the amino acids that make up p53 to only the acids which effect TNF-induced inflammation. The next step for him will be to create an animal model so further testing can be done on mice, with the ultimate goal of producing new drugs to reduce inflammation.